Amazon has released an ad for the Echo Spot on YouTube. The ad called "Be Together More" is only a minute long, and it's full of feels.
The commercial tells a heartfelt story about a grandma who is left home alone with her cat after a visit from her family. She's gifted an Amazon Echo Spot that comes with an instruction, "Just ask: 'Alexa, Call Home.'"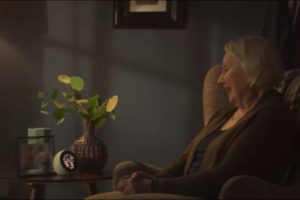 She studies the gadget curiously, which looks like a futuristic alarm clock, before realising she can use it to video call her loved ones. To her awe, her family appears before her eyes in the video call, shouting, "Surprise!"
The ad is coming out at the end of January, when most people have already finished out the last of their holiday shopping. Although Amazon won't disclose exact sales numbers of its Echo products, the timing of the ad seems to correspond with perhaps a current lull from an intense Q4 of sales.
Amazon's Q4 2017 earnings are set to be announced on February 1st, after the market closes.
Source: The Verge