Cost-per-click metric's decline quickens as more of Google's advertising revenue derives from smartphone use
As mobile-device usage has surged, Alphabet Inc.'s Google has managed to change along with its users, but it is a victim of that success in one important way.
The search giant has managed to transition its enormously profitable advertising business toward mobile as web traffic from personal computers declined from dominant to less than half of global traffic. Change has proven to be something of a double-edged sword, however, because Google's desktop ads are far more valuable than their mobile cousins.
Google tracks the amount it makes from advertisements with a metric called cost per click, which is closely watched by investors and analysts. In the second quarter, the raw number of clicks on ads across all Google platforms surged 52% as compared with the year-earlier period, yet the cost per click fell by 23%. The reason: Google ad sales on mobile devices and YouTube are booming, but the revenue for each click is generally lower than for higher-paid ads that appear around search results on desktop computers.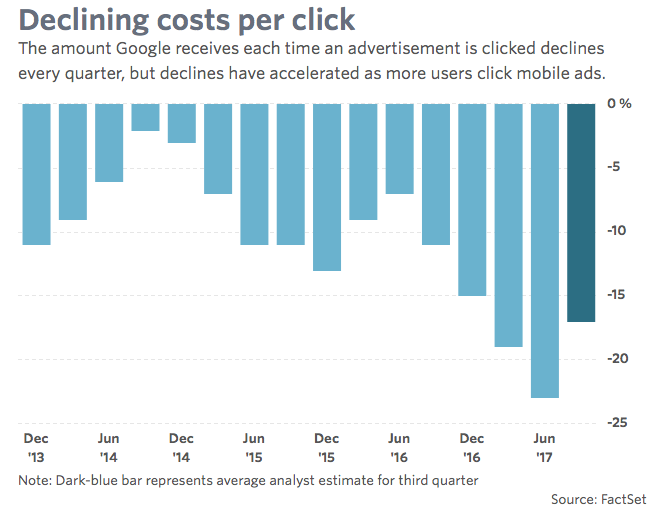 What to expect
Earnings: Analysts surveyed by FactSet on average predict earnings of $8.31 a share for the third quarter, compared with $7.25 a share in the year-earlier period. The Estimize consensus, made up of estimates from sell-side and buy-side analysts as well as hedge-fund managers, academics and others, predicts adjusted earnings of $8.58 a share. While Alphabet switched to a focus on GAAP earnings earlier this year, it does provide the information necessary to calculate non-GAAP earnings that factor out stock-based compensation. Analysts on average predict adjusted earnings of $8.55, according to FactSet.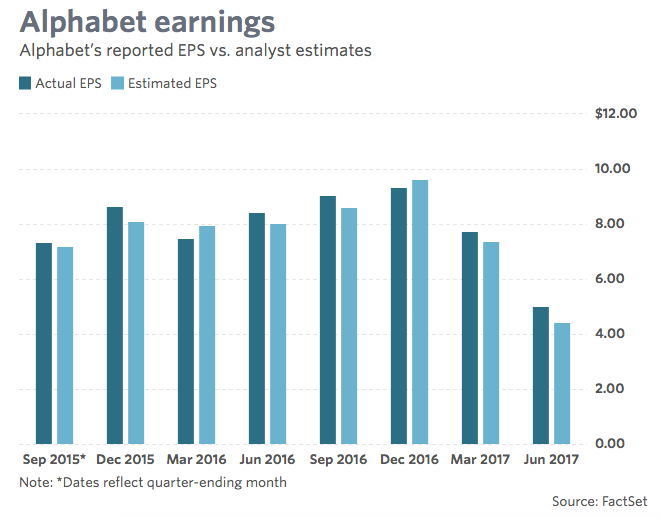 Revenue: On average, analysts estimate sales of $21.9 billion, according to FactSet, up from $18.23 billion in the year-earlier quarter. The Estimize consensus predicts revenue of $22.1 billion.
Alphabet breaks revenue down between Google and "Other Bets," which includes segments like Waymo and Google Fiber. Inside the Google segment, it separates advertising from "other" revenues like hardware, the Google Cloud Platform, and app sales and subscriptions
The "Google Other" revenue bucket is expected to rise to $3.4 billion from $2.4 billion in the year-earlier period ahead of the launch of hardware sales from its new line of Pixel smartphones and other gadgets.
Don't miss: Waymo says it wants $1.86 billion from Uber not $2.6 billion
"Google Cloud, Hardware, and Play [will be a] benefit to revenue growth and margins," J.P. Morgan analyst Doug Anmuth wrote in a recent research note to clients. "We like that Google's recently launched hardware lineup puts Google's technology, including Assistant & Google Lens, in the hands of consumers. And while we believe Google is still early [with] Hardware, the recent acquisition of HTC hardware talent should help over time."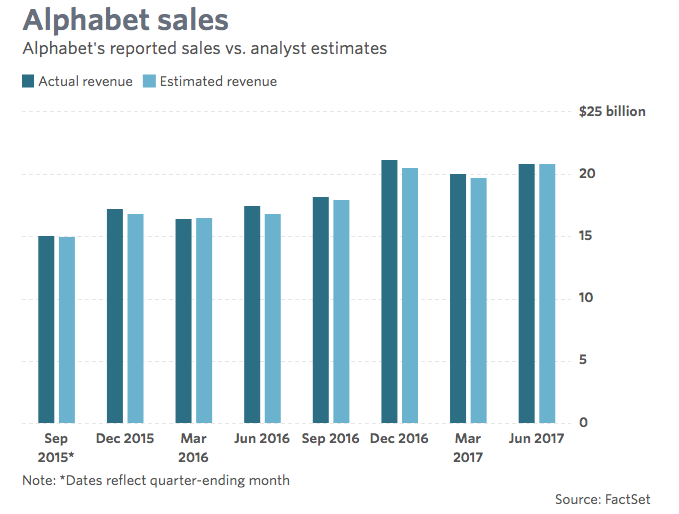 Stock reaction: Alphabet shares, both Class A GOOGL, +0.30% and Class C GOOG, +0.22% , have dropped about 1% in the last three months, underperforming the S&P 500 indexSPX, +0.16%  , which has gained 3.7% during the same period. Class A shares closed at a record high of $987.09 in May and have broached $1,000 intraday several times in the past three months, but they have as yet never closed above that level.
Analysts polled by FactSet average a buy rating on the stock, with an average price target of $1,098.31.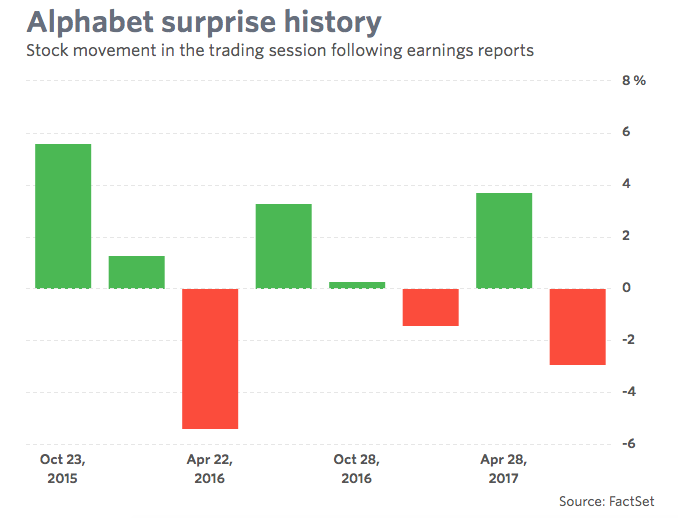 What else to look for: After reports emerged this week about potentially serious problems with the screens on its flagship Pixel 2 XL phone and glitches emerging on its smaller cousin, the Pixel 2, executives will likely discuss the launch of a new hardware suite that debuted at a splashy launch event in October, even though these sales will not factor into Thursday's results.
But the Mountain View, Calif.–based company's biggest business is ad sales, not hardware, and that is what investors and analysts will monitor most closely when the company releases its results.
Beyond cost-per-click information, another important metric for Google's advertising business is traffic-acquisition costs, or TAC. That number reflects the mounting fees Alphabet pays other tech titans such as Apple Inc. AAPL, +0.60% to drive traffic to its search engine and other web properties.
Read: Alphabet's latest quarter looks 'TACky' due to Google parent's traffic acquisition costs
For Apple — and other smartphone makers — that means Google pays hefty fees every year to keep Google as the default search engine on their services. Traffic-acquisition costs have been a source of concern for some analysts, because they continue to exert pressure on the company's bottom line. And by and large analysts expect it to continue to rise for the foreseeable future.
"Traffic acquisition cost remains a frustrating topic to the Street, but we believe most investors expect between 50 basis points to 60 basis points of quarter-to-quarter increase in Sites traffic acquisition cost percentage in 3Q," Anmuth wrote.
See also: YouTube advertiser boycott appears to be over
Alphabet could break out its YouTube results into a separate line item within its financial statements. It isn't totally out of the question due to new revenue-recognition rules set to take effect in January 2018, under which the Securities and Exchange Commission expects to see each company report revenue the same way it reports it to the executive in charge of the businesses.
A potential threat to the volume of search traffic on Google Search and the ad sales on the site is e-commerce powerhouse Amazon.com Inc. AMZN, +0.99%  . According to a recent research note from Stifel, Amazon has surpassed Google and other search engines as the first website for product-related searches, which may hurt Google's revenue from retail advertisers.
"As Amazon's position as the leading web First Point of Product Searches, U.S. destination for product searches increases, we ask how much of a headwind this poses to Google's consumer product or retail search revenue," wrote Stifel analyst Scott Devitt.
Don't miss: Google investors take a big $17 billion hit from 'relatively small' EU fine
While the European Union's massive $2.9 billion fine, which the company plans to appeal, has been recorded already, in last quarter's financial statements, regulatory scrutiny there isn't entirely over. And in the U.S., Alphabet is facing questions over politically motivated Russian-backed ads on its platform that attempted to influence the 2016 vote.
Source: Market Watch