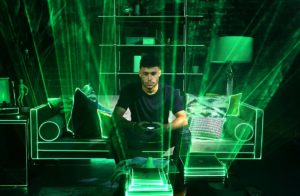 Liverpool footballer Alex Oxlade-Chamberlain became the first to try out Three's new Call of Duty 5G experience, playing the latest instalment of the gaming phenomenon, Call of Duty Modern Warfare which is released on Friday, October 25.
Three gave the England international and avid 'COD' fan the exclusive chance to experience 5G through one of the most hyper-immersive gameplay environments ever created. The only problem is, he now wants to install it at home and his next level gaming is expected to cause upset with his girlfriend Little Mix star, Perrie Edwards, who in December last year light heartedly admitted to falling out with the footballer due to his love for COD.
The hyper-immersive Call of Duty 5G experience at Three's London flagship store is powered by Three's super-fast and superior 5G network. 5G is able to simultaneously power a combination of lighting effects, image projection, spatial audio, haptics and bespoke AI software to reflect the in-game situation in real-time as the drama unfolds.
It's an exciting new way for gamers to take their thrill to another level as senses are driven into overdrive. Whilst the game unfolds, a multitude of audio-visual and physical prompts will transport players from real world into fantasy – players won't have ever been so close to the action – and all from the comfort of a living room.
Showcasing how 5G will revolutionise home entertainment the iconic title reacts in real-time to user's gameplay through a unique, multi-sensory experience, really placing the player at the centre of the action. Gaming perfectly demonstrates the capabilities of Three's 5G due to its ultra-low latency, with this step-change in technology set to also alter the way live sports, music and entertainment is enjoyed at home.
Jasmine Skee, director of propositions at Three, said: "This is a fantastic experience to bring to life the power and speeds of our 5G network. The Call of Duty 5G experience is unimaginably good, creating a seamless, in the moment immersive environment which takes something familiar like gaming in your lounge and amps it up to a whole new level. And it's not just gaming that is being taken to the next level through 5G. We see 5G at the heart of future home entertainment – from feeling like you're pitch-side at a football match, to being in the front row at a festival, or in the middle of your favourite action movie – the versatility of 5G to power your connected home, means the possibilities are endless."
The installation is part of Three's long-term ambition to raise the bar in home entertainment experiences for its customers, with an ambition to offer the 5G connected lounge kit for people to enjoy at home alongside Three's 5G Home Broadband in the near future.
Three's 5G home broadband offers plug-and-play access without landlines or engineers, to provide a seamless online experience whether it's gaming, binge-watching the latest series, or streaming your football team's latest game live.
The immersive 5G multi-sensory experience hosted at Studio Three in Three's flagship Oxford Street store opens to the public between October 26-30. Places are limited so book your free ticket now to secure your spot. 
Source: Three