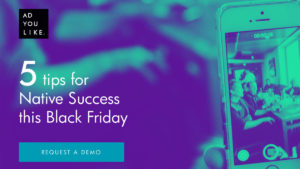 ADYOULIKE, a global leader in native advertising, has launched a Black Friday campaign targeting digital advertisers. The message behind the campaign is simple: Native Advertising works. And it will work for you this Black Friday.
Mobile made up 64% of all shopping visits in the US in 2017 and mobile saw a 41% increase in generated revenue. The small screen has traditionally struggled to find ad units that fit (small banners, interruptive interstitials etc) but Native Advertising is the only ad format that truly works on mobile, with infeed native advertising particularly effective. 2018 is set to be yet another big year of growth for mobile shopping.
Native advertising over-performs across all standard measurement metrics. Plus, due to the bespoke nature of the format – where most providers have direct publisher integrations, there are far fewer brand safety concerns around native advertising. Savvy advertisers are increasingly aware of native advertising's effectiveness.
Dale Lovell, Chief Marketing & Partnerships Officer, ADYOULIKE, says: "The effectiveness of infeed native advertising formats – whether run by managed bookings or increasingly via Programmatic Native Advertising through DSPs and Trading Desks – is undisputed. Mobile shopping is going to be big this Black Friday weekend globally. Advertisers looking to promote their Black Friday campaign are missing out by failing to invest in native advertising. Our quick tips for advertising success, combined with easy activation via direct or programmatic, means that advertisers can unlock the benefits of native advertising easily for their Black Friday campaigns."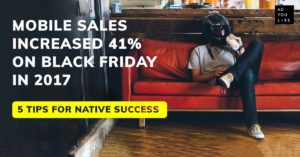 In 2017 ADYOULIKE saw a 30% uplift in ad calls on Black Friday weekend, including Cyber Monday. Over the same period average CTRs on retail brands increased 0.5% – while Black Friday related deals increased on average 1% over the same weekend.
While the majority of the spike was recorded in the US – where Black Friday is big news – ad calls increased in all markets, in particular the UK, France and Germany – signalling that Black Friday is increasingly becoming a global phenomenon thanks to digital.
To super-charge Black Friday Native Advertising campaigns ADYOULIKE has created a savvy 5 point plan for native success. Highlighting IAB best practice principles for Native ads, which ADYOULIKE helped create, it's a timely check list for advertisers ahead of going live with their native ad campaign.
Source: ADYOULIKE