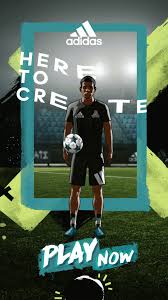 Adidas has created a game exclusively for Snapchat, designed to run on the platform as an ad between Stories. The brand's first game on the media platform will land on September 16 in the UK, France, Germany, Spain and Italy.
It was designed to engage football fans with a compelling gamified ad that allows them to partake in some touchscreen keepie-uppies while performing as many skills as possible. There's a competitive streak to the work; Snapchatters can play against their friends for the top score, and as players progress they unlock new skills and geofilters.
Beyond just being a Snap Ad, there is a physical element to the title. Fans can also unlock the game at will via Snapcodes found in football cages across London and in Adidas' London stores.
Dan Bulteel, Adidas global social media director, said: "Adidas is always looking for creative ways to engage our audience through social media and we work closely with our partners to ensure the brand is the leader when it comes to exciting and innovative ideas. With this game on Snapchat, we have not only created something incredibly addictive and engaging, but also a clever way of bringing the 'Here to Create' campaign to life."
It's one aspect of the 'Here To Create' brand campaign that is looking to encourage creativity in athletes as much as possible. Setting the tone for this work was the Tango Squad ad, created by 72andSunny, that ran earlier this week showing aspiring football stars infiltrate a Real Madrid facility.
Source: The Drum