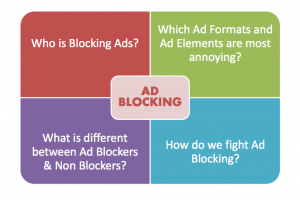 The Interactive Advertising Bureau (IAB) just released a new report which highlights the growing usage of ad blocking technology and offers practical advice on how users could be convinced to uninstall their ad blockers. Conducted by C3Research among 1,300 computer and 201 mobile users in the US, the research finds that two-thirds of consumers using ad blockers are open to stop blocking ads.
Most consumers block ads because they're annoyed by ads and want a faster and uninterrupted online experience. One of the top reasons cited for using an ad blocker on smartphone was that ads slow down browser speed. IAB found that consumers blame ads for slow loading pages.
Among the most annoying advertising elements are those that block content, long video ads before short videos as well as those that follow scrolling.
26% of respondents currently block ads with the majority of them male between 18 to 34 years old. Another 40% think they are using an ad blocker, unsure whether their antivirus software or pop-up blockers built into their browsers may be blocking ads.
15% of respondents are blocking ads on smartphones.
Who blocks ads?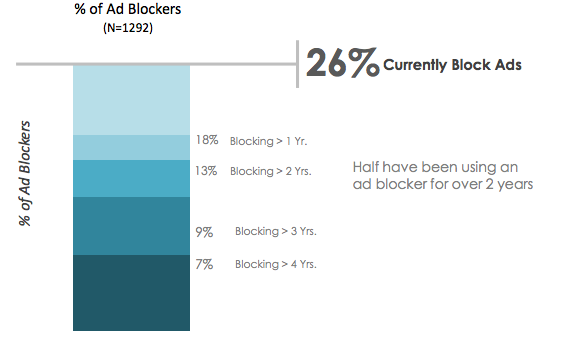 A majority of smartphone users are aware that ad blocking software exists, but haven't used any. Just 18% of mobile device users are not aware of ad blockers
Ad blockers on smartphones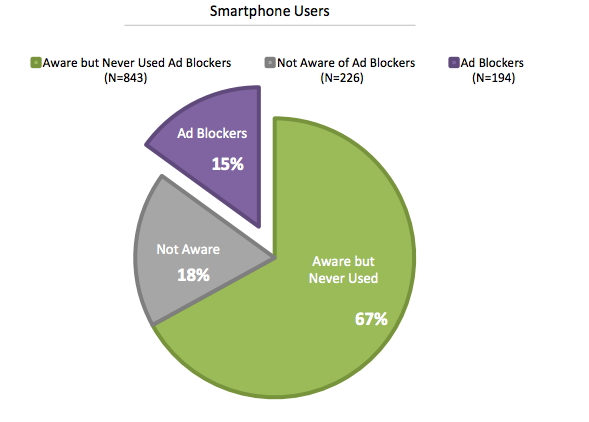 Among consumers who aren't blocking ads, 20% are previous users of ad blockers. A majority of them chose to uninstall their ad blockers following prompts on a chosen site to view content in exchange.
However, 17% of those currently not using such technology are at risk to start doing so.
Reasons are similar to current blockers with an uninterrupted experience at the top of the list. Concerns about viruses also rank high.
Reasons for potential blockers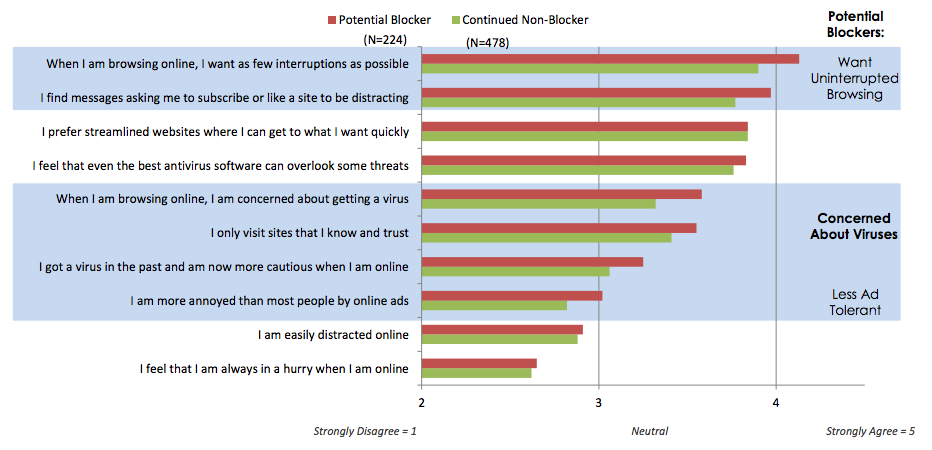 Not all is lost though. In particular, content providers have the power to persuade consumers to stop using ad blockers by blocking their own content.
How to win back ad block users?
The IAB research offered some tips on how to win back users:
Preventing access to content alongside a notice stating that content is blocked because of the use of an ad blocker
Ensuring that ads do not have auto-play audio or video in environments where they aren't anticipated by consumers
Making certain that ads do not block content
Safeguarding users from ads that are infected with malware/viruses
Guaranteeing that ads do not slow down browsing
Adopting LEAN principles (Light, Encrypted, AdChoice supported, and Non-invasive ads) had some of the greatest influence in getting current users to turn off their blockers.
Alanna Gombert, Senior Vice President, Technology and Ad Operations, IAB, and General Manager, IAB Tech Lab, says: "The next step in bringing ad blocking consumers back into the fold is the establishment of a LEAN scoring system, which will allow for user experience to be measured against clear-cut benchmarks. The IAB Tech Lab is on track to provide a LEAN scoring algorithm and publish initial LEAN scorecard recommendations by the end of this year."
Source: Moby Affiliates