YuMe, a leader in brand video advertising software and audience data, announced the availability of an immersive mobile vertical video ad format for brands and advertisers. YuMe's new customizable vertical video ad format enables video ads to fit more naturally within the mobile experience as full-screen video that is viewed in portrait mode. One of the largest North American furniture retailers is among the first to have launched a vertical video campaign for its millennial target audience with YuMe.
YuMe's mobile vertical video ad format supports both original content created for vertical video, and the adaptation of pre-existing landscape video creative for Android and iOS. Interest in vertical and 360-degree video is evidence of a broader trend toward immersive ad experiences that deliver higher brand ROI and engagement. According to Snapchat, vertical video ads have up to nine times more completed views than horizontal video ads.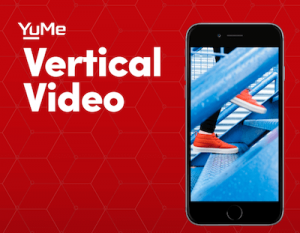 "Snapchat ignited the market for vertical video, and ever since we've seen a rapid and steady rise in adoption by leading apps and social platforms, primarily due to favourable consumer response to its more natural, immersive experience within mobile and app content," said Tripp Boyle, VP of Emerging Platforms, YuMe.
"YuMe is proud of its continued leadership as one of the first to enable clients to leverage this innovation. It's all part of our audience-first strategy — helping marketers reach and influence consumers where they are, in the manner they prefer."
Key benefits of YuMe's mobile vertical video ad unit include:
Customizable format, with the option to easily and cost effectively reformat existing landscape video into the vertical video ad format (9:16 aspect ratio), with no additional creative cost
IAB-compliant MRAID standard ad format can be viewed on mobile apps via the YuMe SDK to enhance reach and deliver campaigns at scale
Seamless integration into cross-screen video campaigns
Source: YuMe