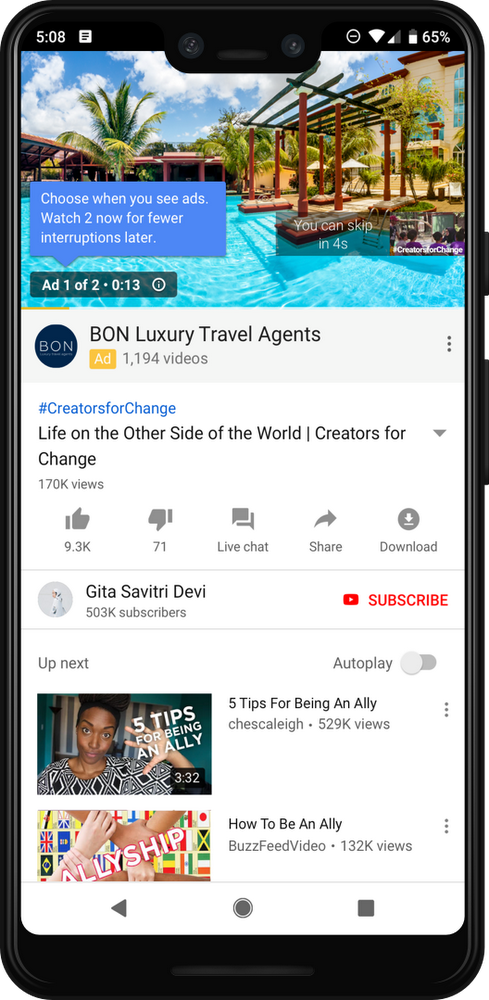 YouTube has started showing two pre-roll video ads instead of just one, as the site prepares to rival TV on demand services and cater to a growing audience of viewers watching YouTube on their TV screens.
The Google-owned streaming site calls them "ad pods", which are essentially two separate video ads much like a TV commercial break.
Ads can run either before or even in the middle of a video.
Although users may now be seeing more ads all at once, YouTube argued that the disruption was actually smaller because previously four ads would be shown at four different stages in a video. Now, the ad break is minimised to two disruptions.
Although ad pods are restricted to desktop viewing just now, they will be rolled out on mobile and other devices in 2019.
"Our recent user experience research suggests that in addition to factors such as the length of ads, viewers are quite sensitive to the frequency of ad breaks, especially during longer viewing sessions," explained Khushbu Rathi, Product Manager for video ads at YouTube, in a blog post.
"Through this research, we also learned that fewer interruptions is correlated with better user metrics, including less abandonment of content and higher rates of ad viewing. To respond to this, we will begin testing ad pods–two ads stacked back to back, where viewers have the option to skip directly to the content if it's not the right ad for them."
However, shorter videos may not come with ad pods and for some ad pods users will have the option to dismiss ads. If a viewer skips the first ad after five seconds, the second ad will not play either. There are also six-second unskippable ad pods.
It remains to be seen if the new ad pods can succeed, and just how accepting online viewers will be.
Source: Business Of Apps