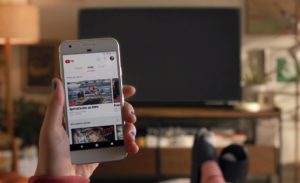 Hulu and YouTube together have signed about three million subscribers to their live online TV services, according to Bloomberg, a sign the two internet companies may be outmanoeuvring competitors like Sling TV and DirecTV Now.
Hulu's live service is nearing two million subscribers, while YouTube TV has eclipsed a million, said the people, who asked not to be identified because the numbers aren't public. Both continue to add hundreds of thousands of customers every quarter.
The companies created the live services, known as "skinny bundles," to broaden their offerings and compete with similar packages from conventional pay-TV distributors like Dish Network Corp., the owner of Sling TV, and AT&T Inc.'s DirecTV. The idea is to offer a narrow lineup of channels, from programmers like CBS and ESPN, as a low-cost alternative to cable's hundreds of channels, most of which people don't watch.
TV networks have looked to the slimmed-down, online services to ease their pain as growing legions of consumers drop conventional pay-TV packages for streaming options like Netflix. The first of these services, Sling TV, offered a few dozen live channels at a fraction of the price of a typical cable package.
But the initial burst of signups at Sling, DirecTV Now and Sony Corp.'s PlayStation Vue has slowed. DirecTV Now suffered a 14 percent drop in customers in the most recent quarter after raising prices. Sling is offering a 40 percent discount to attract new subscribers.
Hulu and YouTube represent a rare bit of good news for TV. They may be benefiting from a superior user experience compared with Sling or DirecTV Now, according to Alan Wolk, co-founder of the media consultancy TVRev.
"They've done a better job of branding," Wolk said. "The interfaces are slick and modern looking, Hulu in particular.''
It also helps that neither YouTube nor Hulu is a cable or satellite company, which routinely rank among the least admired by U.S. consumers.
Generally, TV networks make money from selling advertisements and charging pay-TV providers like Comcast Corp. to carry their channels. Advertising has flatlined as more consumers watch shows on-demand, often using ad-free services like Netflix.
That's increased the pressure on programmers like CBS, NBC and Fox to charge distributors more to carry their channels, which has in turn contributed to price-sensitive customers canceling their packages.
Hulu, owned by four large media companies, charges $44.99 a month for more than 60 channels, including CBS, NBC and ESPN. It also includes Hulu's on-demand service.
The business will be majority owned by Walt Disney Co. once the entertainment giant completes its $71 billion purchase of assets from 21st Century Fox Inc. YouTube, part of Google, charges $40 a month for its live TV service.
Source: Bloomberg