Young's Beer is launching a special campaign this week that celebrates the brewery's 186-year anniversary, called Young's Day, with the offer of a free pint for all.
Beer lovers can claim a free pint from of any of the Young's beers, including Young's Bitter and Young's Special, simply by downloading the Young's On Tap app. The offer runs from Young's Day on September 21st through to Sunday September 24th 2017, redeemable at all Young's and Geronimo pubs.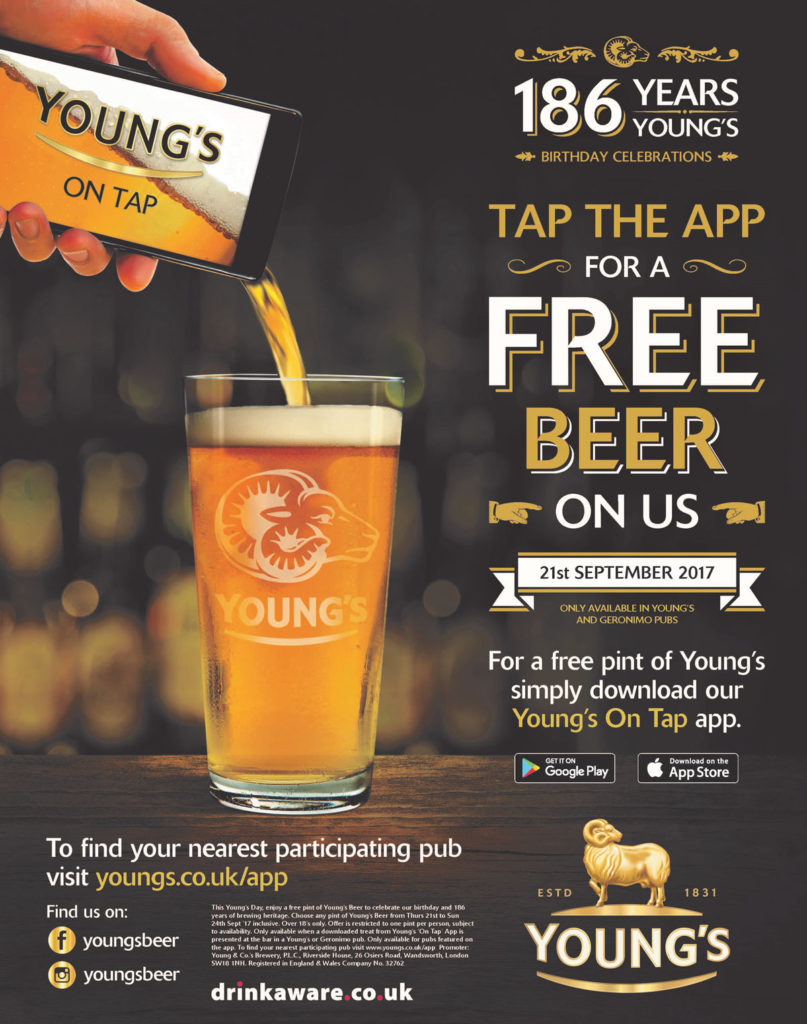 The anniversary and the promotion are being supported with an advertising campaign, created by Bonfire Creative Intelligence, that comprises print ads in titles including the Metro, Evening Standard and Time Out, plus a digital takeover of the Time Out website and social video on Facebook and Instagram.
With over 180 years of brewing heritage and expertise, Young's beers are icons of British brewing and comprise six key brands including Young's Bitter, Young's Special and Young's London Gold. The On Tap app allows community members to find their local, book a table, pay their bill and even change the music in the venue, as well as providing updates on events and promotions.
Ralph Barter, Account Director at Bonfire Creative Intelligence said: "Young's beer was looking for a highly visible and captivating campaign to celebrate the brewery's anniversary and what better way than by buying a pint for its guests. The campaign will launch Young's Day and provide visibility across London press and listings titles, while the social activity will facilitate quick and easy access to the app and the promotion."
Media was planned and bought by Arena Media.
Source: Bonfire Creative Intelligence