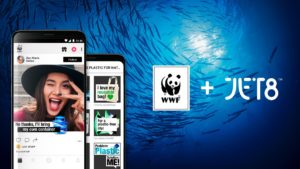 World Wildlife Fund (WWF) has partnered with Jet8 Foundation to unveil a social media app to raise awareness about global conservation.
The app titled 'WWF Selfies' is available to users in Singapore, Indonesia, Philippines, Vietnam, Thailand, and Malaysia. Users will be able to download the app from Google play store and iOS app store and get access to exclusive WWF stickers and frames and the opportunity to earn Jets (in-app currency) for their social influence.
The app further enables users to add WWF-branded stickers and frames to their posts. Users can like, comment, and share and with the earned Jets, can make a monetary donation directly to WWF.
WWF International, director, digital engagement, Sid Das said: "WWF sets the absolute benchmark for building a global community of passionate supporters, having raised awareness around conservation issues since 1961. For WWF, decentralised technology presents a new platform to connect, communicate, and advocate for the pressing environmental challenges facing our world today. By engaging a global audience with our very own Jet8-powered decentralised engagement network, we can achieve our aims of educating and inspiring people around conservation like never before."
Jet8 Foundation director, Victor Zabrockis said: "Our aim at the Jet8 Foundation is to enable crucial organisations like WWF to succeed in the digital age. Through building global mobile communities using our decentralised social media app, WWF will be able to educate and influence more people, businesses, and governments than ever."
Source: The Drum