Freedom Mobile unveiled a bold new advertising campaign that highlights the expensive pain points that consumers often experience with their wireless service and shows Canadians that they can get more value through Freedom Mobile.
Launching in Ontario, Alberta and B.C. markets today, the new ad campaign is headlined by Emmy-nominated Canadian actor Will Arnett, who acts as the champion for the average wireless consumer in Canada. In the campaign, Mr. Arnett's character is the unwavering voice of truth that seeks to expose unreasonable industry practices for data overages while demonstrating that Freedom Mobile is giving Canadians access to the data they need to manage their mobile lives.
"This campaign challenges the conventions of the Canadian wireless industry by taking aim at the practices that charge wireless users astronomical fees when they go over their data limits," said Paul McAleese, President, Wireless, Shaw Communications. "Transparency means being open and honest with customers to provide a simpler, better and more affordable wireless experience. There are no surprise fees with Freedom Mobile — what you see is what you pay."
Building on the brand's momentum since introducing its data-rich Big Gig plans in 2017, Freedom Mobile is now targeting the problems consumers face when exceeding their data limits. Data overage fees in Canada have recently hit new levels, with prices now reaching as much as $100/GB at some carriers.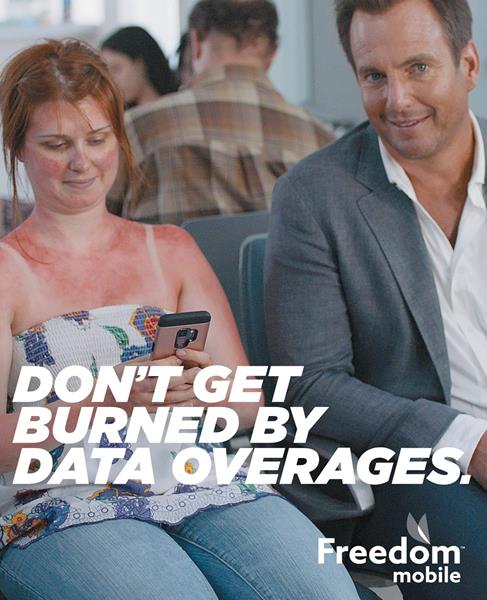 According to the CRTC's 2017 Communication Monitoring Report, the Canadian wireless industry charged consumers more than $1.2 billion in excess data fees in 2016, with certain carriers doubling their overage rates in the time since then.
Freedom Mobile recently announced a new line-up of entry-level price plans in July, following the launch of its popular Big Gig plans. Freedom Mobile's Big Gig plans includes 10 gigabytes of data for just $50 a month with Digital Discount, which allows subscribers to receive a monthly $5 discount when they opt for Auto Pay and My Account registration. Unlimited Talk and Text is available for an additional $10.
Developed by Toronto-based Rain 43 — Freedom Mobile's advertising agency of record — the campaign launches just in time for the back-to-school promotional season and includes a mix of traditional radio, television and outdoor, along with digital video and banners and social advertising.
Freedom Mobile Inc. is an indirect wholly owned subsidiary of Shaw Communications.
Source: Rain 43