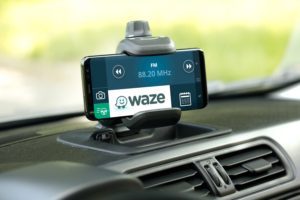 Social navigation app Waze has struck a deal with insurance firm Allianz that will enable its 22m users to access a roadside assistance service if they are ever stranded, with one click on the Roadside Help ('SOS') button within the Waze app, on payment of a fee.
Wazers will be assisted 24/7 in the event of a breakdown, flat tyre, flat battery, or miss-fuelling without having to sign up to a membership. The service will be provided by Allianz Partners through the consumer-facing Allianz Global Assistance brand. Allianz Partners has over 35 years' experience in providing premium manufacturer branded roadside assistance schemes.
There are three levels of service. Roadside Assistance includes up to 30 minutes of roadside assistance to get the driver back up and running for £95. Recovery includes roadside assistance and then recovery up to 10 miles from the point of the breakdown for £110, with additional miles charged extra location. Wrong Fuel Cover, which costs £250, includes the removal, draining and cleaning of the system after the wrong fuel has been used, we well as a small amount of the right fuel to get the motorist back on the road.
"With 64 per cent of the UK population commuting to work by car, and even more people than ever opting to do staycations, providing help while driving is what Waze has always tried to deliver," said Finlay Clark, Waze's UK country manager.
"The partnership with Allianz Partners has enabled us to take the stress out of breaking down. Should anything happen when you are driving, help is just one click away. Additionally, the community is the beating heart of Waze which is why we're excited to include the option to call for help from other Wazers, for situations where drivers just need an additional pair of hands. Waze takes the stress out of driving. Now, with the help of Allianz Partners, we're helping take the stress out of breaking down."
Wazers will be able to benefit from the roadside assistance service across the UK, France, Italy, Greece, Turkey, Russia, the Netherlands and Belgium. The service will be rolled out across Portugal, Spain, Ukraine, Romania, Slovakia, Hungary, Poland, Austria, Czech Republic, Switzerland, Ireland and Germany later this year.
Kate Walker, head of strategic market management for Allianz Partners in the UK, said: "We are proud to be joining forces with Waze to provide an on-demand assistance solution, making Wazers even more safe and secure. The partnership highlights our commitment to deliver reliable and value adding solutions to drivers in need, ensuring drivers' safety wherever they are."
Source: Mobile Marketing Magazine