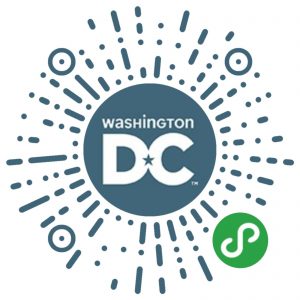 Destination DC (DDC), the official marketing organisation for Washington DC, expands its partnership with WeChat by launching the first City Experience Mini Program in the United States to support Chinese travellers when they arrive in the city. Through Tencent's instant messaging platform, DDC continues its expansion into Washington, DC's top overseas market with the immersive new program built for the 963 million monthly active users on WeChat.
"One of the biggest challenges for Chinese travellers in any western city is knowing where to go and what to do," says Elliott L. Ferguson, II, President and CEO of DDC. "We are thrilled to partner with WeChat to enhance the visitor experience for the 304,000 Chinese travellers who visit Washington, DC every year, especially as we hope to grow Chinese visitation."
The new DDC City Experience Mini Program is designed to be an interactive guide that helps tourists make the most of their visit to Washington. The map driven layout of the top attractions and places to eat and shop has an explorative style which is aimed at the growing number of FIT visitors. The city's top attractions also have audio tours included in Mandarin to make it easy for Chinese tourists to understand the historical and cultural significance of the places they are visiting without a tour guide.
Mini Program features include:
Top attractions
Details including opening and closing times, contact information and admission fees
Audio tours in Mandarin
Walking directions
Social share functionality on WeChat
The Mini Program will have new attractions and content added every week and will soon feature top dining, shopping and tour offers that tourists can take advantage of.
Over the past year, DDC has been building a strong following on its Official Service account (account ID: visitdc), achieving the highest traffic growth among U.S. cities on WeChat in 2016. With the Tencent expanded partnership, DDC continues to grow Welcome China (the organisation's certification program for its members) by catering to Chinese travellers before, during and after they arrive in Washington, DC.
DDC has partnered with The Momentum Group, a WeChat marketing and solutions provider, to manage the Service Account and build the WeChat Mini Program. DDC recently ran a successful Golden Week contest in partnership with its members to fly a winner to Washington, DC to enjoy the U.S capital during the Golden Week holiday.
Source: The Momentum Group