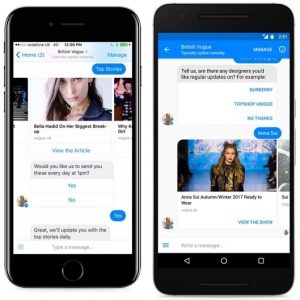 British Vogue has become the latest brand to use chatbots on Facebook Messenger. The publication is using a chatbot to update fashion fans on the latest news and shows – to cater for the shortening attention spans of modern day readers.
By signing up to Vogue's 'Fashion Update' service, the bot will bring users the latest news and updates from the world of fashion direct to their Facebook Messenger app. In addition, the publication offers daily top story updates to let fans 'know what is on the Vogue agenda'.
"This is a new method for us to be able to talk directly an immediately to the huge Vogue audience," said Alexandra Shulman, editor-in-chief of British Vogue.
To sign up to the update service, fans have to visit the British Vogue Facebook page, click on the messaging icon and begin chatting with the bot. Vogue says users are free to leave the service or mute notifications at any time via settings.
Cantlin Ashrowan, director of product at British Vogue's parent company Condé Nast International, added: "We are always seeking to engage with our audiences in new and innovative ways."
Source: Mobile Marketing Magazine