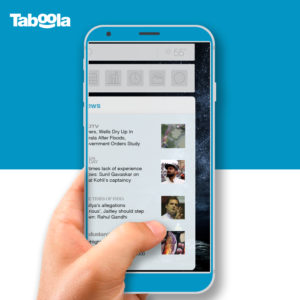 Smartphone brand Vivo has announced a global strategic content partnership with Taboola News to drive engagement and monetisation across Asia.
As part of the partnership, Taboola will power news on its 'swipe right' screen to help expand the audience for the content publishers in Asia. When users swipe right on the home screen, Taboola will showcase personalised news and content from its network of publishers throughout Asia.
Taboola has partnerships with publishers and marketers such as NDTV, India Today, China Daily, Kapook and OhBulan and its global network in APAC includes content in languages such as Thai, Hindi, Tamil, Chinese, Indonesian and English.
According to eMarketer, internet users in APAC own smartphones at higher rates (93%) than their peers in Europe (86%) or North America (84%) and the growing penetration of smartphones and tablets has changed the way adults consume media in the region.
Adam Singolda, founder and CEO, Taboola said: "Enabling people to discover what's new and interesting is a key part of enriching people's lives, and it is at the heart of our mission at Taboola. Smartphones are perhaps the most intimate device that we own — on average we use our smartphones over 100 times a day. So the opportunity to create a personalised experience and surface relevant content in that 'moment of next' is massive for users, journalism, and smartphone manufacturers."
Source: The Drum