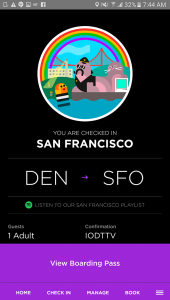 Virgin America has just launched its app, and along with the usual flight booking, online check-in and digital boarding pass features, the smartphone app links to curated playlists on Spotify, themed around your destination.
The playlists span a wide range of genres, with most cities boasting multiple choices, so for New York you can either enjoy An Afternoon in Central Park (indie and rock), A Night On Broadway (show tunes) or the Origins of Hip-Hop (rap and hip-hop), while travelling to Austin, Texas lets you listen to the country stylings of Cold Beer on a Friday Night, or a festival mix meant to evoke Your Ticket to Austin Music Festival.
The app also provides real-time flight alerts and links to Virgin America's loyalty scheme, enabling users to check their points balance or purchase discounted tickets in a manner of seconds.
Virgin America's flights offer ViaSat in-flight internet access, enabling app users to enjoy the tunes even as they cruise at 35,000 feet on their way to the destination.
The app will initially be rolled out to loyalty program members and other frequent fliers for beta testing before launching for the public later in the summer.

Source: Mobile Marketing Magazine