Teads,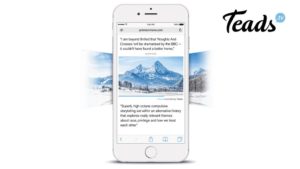 the top video advertising marketplace in the world, today announced record results for 2017, reporting a revenue of $317 million representing a 53 percent organic growth year-over-year (YOY). The Altice-owned company enjoyed an even faster growth than the previous year (45 percent YOY growth in 2016). The company was EBITDA-positive for the fifth year in a row.
Pierre Chappaz, Executive Chairman, said, "More and more advertisers are trusting Teads and our leading publisher partners to provide a powerful alternative to YouTube and Facebook for distributing their video campaigns in a high-quality environment. Our strategic partnerships with the most premium publishers all over the world, our meticulous attention to user experience, constant focus on innovation, and our global scale set us apart from the rest of the adtech companies. Our bet on quality is paying off !"
Chappaz also commented on Teads acquisition by Altice one year ago: "The arrival in the Altice group allowed us to combine the Teads start-up spirit with a group of telecom and media entrepreneurs, the accelerated growth and the rise of an alternative actor of digital video advertising at the worldwide level."
Teads reaches an audience of 1.2 billion monthly unique visitors, including 800 million on mobile. According to comScore, Teads' global reach is ahead of Verizon's video properties (Oath, Adap.tv, Brightroll), Adobe's Tubemogul and Bertelsman's SpotX. In many countries, the company's potential reach (aka deduplicated monthly reach of its publishers) is larger than YouTube and Facebook.
Constant Innovation : In 2017, Teads invested heavily into interactive technologies, providing tools to adapt TV commercials to the mobile screen, and personalize the advertising experience, leveraging data and AI. Teads was first to launch video advertising integrating a chatbot, as well as voice controlled ads.
Bertrand Quesada, CEO, commented: "Our mission is to help leading publishers grow their advertising revenues while protecting the user experience. Teads is proud to support the most prestigious publishers in the world both technically and commercially, including The Washington Post, Forbes, LA Times, Politico, Boston Globe, Chicago Tribune, The Atlantic, Reuters, and Business Insider in the U.S., as well as The Evening Standard, The Daily Mail, Trinity Mirror, Der Spiegel, Die Welt, Bild, Les Echos, L'Equipe, L'Express, BFM, Au Féminin, O Globo, El Pais, El Mundo, Nikkei and many, many others across Europe and APAC. Teads offers the best environment for advertisers who care about brand safety and want scale. The company's opportunity for growth is limitless!"
Source: Teads