Two consecutive increases in ad viewability over the past two quarters have seen the well watched surge to an 18-month high, driven by the demand on publishers from agency groups to place a higher percentage of ad surface areas in view.
The findings are contained in the latest quarterly update from ad verification specialists Meetrics which found that in the third quarter of 2017 the proportion of banner ads meeting minimum viewability guidelines nudged up to 52% from 51%, extending an increase from 47% in the first quarter.
As a result ad viewability is now at its highest rate since the first quarter of 2016 when the equivalent figure stood at 54% percent.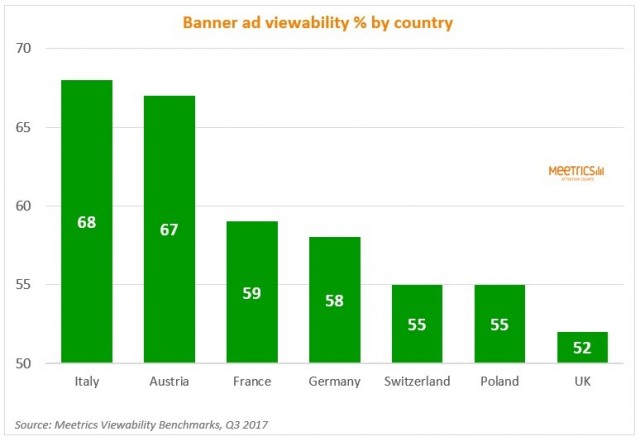 Anant Joshi, Meetrics' country manager for UK and Ireland remarked: "Yes, the latest rise is small but its directionally very significant. For the first time, there's a consistent positive trend which is a sign that efforts to increase viewability are bearing fruit. A driving factor is that some agency groups are starting to demand a higher percentage of an ad's surface area to be in view which is making the sell side improve the quality of their ad placements."
This bounce is too little too late to boost the UK's European ranking however, with the country lagging well behind continental rivals led by Italy, where the equivalent viewability ranking stands at 68%.
This viewability gap suggests that the UK is now squandering around £165m per quarter on ads which fail to meet minimum viewability guidelines, according to the latest IAB/PwC ad spend figures.
Source: The Drum