After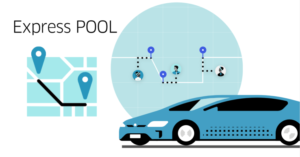 being piloted in Boston and San Francisco, Uber is officially launching Express Pool in those two cities along with Los Angeles, DC, Miami, San Diego, Philadelphia and Denver. The ride-hailing company plans on launching the service in more cities soon.
Express Pool, like Uber Pool matches a driver with riders along a similar route during a trip. But instead of the door-to-door service found in Pool, Express Pool requires riders to walk a block or two to a location to maximize the efficiency of a trip. It then drops those riders near their locations, also within walking distance.
Uber says these Express Pool trips will be up to 50-percent cheaper than Uber Pool and 70-percent cheaper than Uber X. That's a substantial savings for commuters willing to hoof it down the street for a ride.
When you hail an Uber Express Pool, the app will take an additional minute or two while it figures out the best route, pick up location, driver and other riders. It'll then direct you to a location taking into account the time needed to walk to that location. The ideal ride is basically a straight line to your destination while accommodating others.
Uber says it's been working for a year on the technology powering Express Pool and that some of the tech will be used to power Pool soon. But don't fret fans of having a car come to their home filled with strangers, the company has no plans to discontinue Uber Pool.
Source: Engadget