For International Women's Day Uber has launched a campaign film to celebrate its female drivers, while at the same time battle unfair stereotypes of women behind the wheel.
The campaign is dedicated "To all the women who challenge the status quo and press for progress everyday."
Developed by Uber's in-house creative team, CreativeX, the campaign features a 3-minute film titled #DrivenWomen. Created in collaboration with Freeflow Productions and Frame by Frame pictures, the spot will run in Singapore, Malaysia, Thailand, Philippines, Vietnam, Hong Kong and Taiwan.
The film brings together women who shatter stereotypes, as it sees female drivers go beyond by bringing hundreds of thousands of riders to their destinations every day. In addition, the film explains the stories of women who have joined Uber as a way to earn an income while also balancing other responsibilities, such as family, work, and education.
"We are delighted to showcase this film, which features our female driver-partners who challenge the status quo by driving with Uber. It's about starting a conversation around how women are empowering themselves," said Eshan Ponnadurai, Uber's APAC marketing director.
Credits: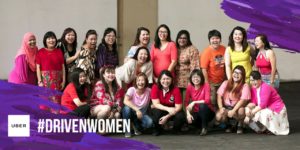 Director : Peggy goh / Freeflow Productions
BTS Director : Kevin Yang / Frame By Frame
Production : Frame By Frame
Lead Producers : Gabriel Li & Kwek Chunyi / Frame By Frame Pictures
Post Production : Vividthree
Productions Original Music Composition: Nic Manders – Smoke music production New Zealand
Audio Post Production : Songtzu Singapore
Source: Branding in Asia