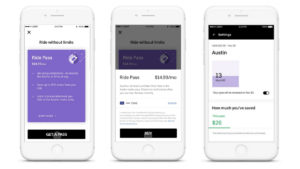 Uber has begun rolling out a monthly subscription service in order to offer frequent riders more consistent pricing whenever they choose to use the ride hailing service.
Uber users in Los Angeles, Austin, Orlando, Denver, and Miami will be the first to gain access to the service called 'Ride Pass'. The will enable riders to take trips through both UberX and UberPool at a flat rate based on historical data which is not changed due to weather, traffic, or surge pricing. Ride Pass will cost $14.99 each month – except for in Los Angeles, where the service will cost $24.99 due to the additional benefits of e-bikes and scooters.
Users in the five US cities can sign up to the subscription service through the app via the in-app menu. Riders will also be able to track how much they're saving on each ride in real-time. The service can be set to auto-renew and can be cancelled any time.
"Leaving the car at home shouldn't take a leap of faith," said Dan Bilen, product manager at Uber, in a blog post. "Whether it's a daily commute or a night on the town, we want riders to have the confidence to reliably plan their day with Uber. Ride Pass is another step we're taking to make Uber your go-to app whenever you need to get from A to B."
Source: Mobile Marketing Magazine