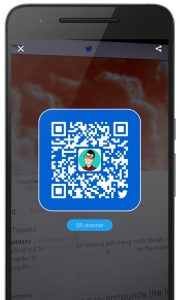 Twitter has introduced a new way of connecting to user accounts on its service: QR codes.
Users can generate a QR code within the app, including their choice of profile picture. When another user scans the code – either using the device camera or by choosing a screenshot with it in – it links directly to the account page.
If this all sounds familiar, it's because the feature is lifted almost entirely from Snapchat. Twitter isn't trying to make any secret of this – in a tweet announcing the launch, product designer Brittany Fork said directly: "they work like Snapcodes."
Twitter isn't the first to follow in the messaging app's footsteps here. Facebook, never one to miss an opportunity for copying Snapchat, introduced its own scannable codes back in April.
It's an understandable move, given that Snapcodes have been widely adopted by brands. The recognisable yellow QR codes – often with a branded twist on the company's ghost mascot – are now a frequent appearances on everything from outdoor ads to POS materials.
📢 hella pumped to announce the launch of QR codes on twitter! they work like snap codes!!

find yours: profile > gear > QR code pic.twitter.com/lvAr97bHj6

— brittany (@brittanyforks) November 16, 2016
Source: Mobile Marketing Magazine