Tostitos and Sabra,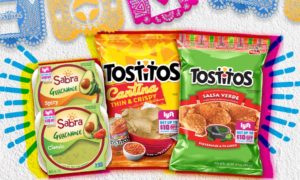 marquee snack brands from PepsiCo, are making it even easier for friends and family to get together this Cinco de Mayo. The brands are teaming up with U.S. rideshare company Lyft, to offer ride credits to help consumers get to and from their Cinco celebrations safely.
For a limited time, specially-marked Tostitos bags and Sabra Guacamole packs with the Lyft logo contain a code for up to $10 off a ride. As an added bonus to enjoying the delicious flavors of chip and dip products, the partnership with Lyft comes just in time for Cinco de Mayo — a day known for bringing friends together.
"No Cinco de Mayo party is complete without a bowl of tortilla chips and guacamole, and this year Tostitos and Sabra are making it even easier for friends to celebrate together. Sabra's guacamole is made with fresh, ripe avocados and pairs perfectly with Tostitos tortilla chips providing a quick and easy party favorite," said Sheldon Boyea, senior director of marketing, Tostitos. "We're thrilled to partner with Lyft to help Cinco celebrators get home safely."
Specially-marked bags of Tostitos chips and packs of Sabra Guacamole with the Lyft logo containing a credit toward your next ride are available now at retailers nationwide. Participating items include:
• Tostitos Salsa Verde
• Tostitos Salsa Ranchera


• Tostitos Cantina Thin & Crispy
• Tostitos Cantina Traditional
• Sabra 8oz Classic Guacamole
• Sabra 8oz Spicy Guacamole
• Sabra 16oz Classic with Lime Guacamole
All consumers need to do is buy a specially-marked bag of Tostitos or pack of Sabra Guacamole, scan the circular Facebook Messenger code, enter the on-pack code when prompted to get a Lyft code, and then use the code to get a credit of up to $10 off in the Lyft app.
Source: Frito-Lay North America