Perennially popular dating app Tinder is pushing further beyond the realm of hookups with the launch of a new group socializing feature in a handful of markets.
First announced as part of a pilot program in Australia back in April, Tinder Social encourages groups of friends to meet up with other groups of friends and do things together. Tinder insists that it's not built for group dating (or orgies), but rather for pub crawls, concerts, and similar encounters.
The new feature caused a stir at first, given that it was opt-out rather than opt-in — meaning your Facebook friends could potentially see that you are active on Tinder. The company responded to concerns at the time by saying: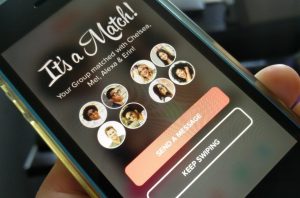 "Any user who would prefer not to be added to groups can opt out of Tinder Social through his/her settings to no longer appear on their friends' lists. We are only testing it at this point, but it's important to note Tinder's not a secret considering 70% of users download Tinder because their friends recommend it."
Launching today in the U.S., U.K., Canada, Australia, New Zealand, and India, Tinder Social has now shed its beta credentials and is a fully fledged feature in its own right. And users will be pleased to know that it's now opt-in, meaning they have to actively change a setting in their profile to turn it on.
In terms of how the feature works, users will be asked to activate Tinder Social to connect with their fellow Tinder-using Facebook friends. Groups can consist of up to four people (who must all have opted in), and a status must then be assigned from a number of options, including "Watch the game with us," "Happy Hour, anyone?," or "Going to a concert tonight." Tinder then serves up possible "matches" in the traditional way, with only one member of each group required to swipe right to cement the match.
Group conversations are then enabled in-app, after which the group members have until noon the following day to chat before the thread expires, though the group creator can hit "End Group" at any time, and if everyone leaves the group, it also expires.
Not a dating app?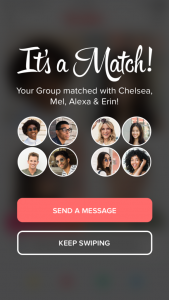 Launched in 2012, Tinder has emerged as the de facto dating app for many, claiming tens of millions of new "matches" each day around the world. But Tinder has also pushed to distance itself from associations with being a simple "hookup app" — in the announcement for this latest news, the company referred to itself as "the world's most popular app for meeting new people," steering clear of any references to do with dating.
"Tinder Social is designed to make it as easy as possible to plan your night, get out into the real world, and meet new people," explained Sean Rad, CEO and cofounder of Tinder. "The new feature takes the Tinder experience to a new level, offering our users more ways to expand their social circles and interact with potential matches. We believe it's the ultimate tool for planning your next adventure."
Ignoring privacy concerns around the new feature — concerns that have surely been laid to rest given that it's now opt-in — Tinder Social actually makes sense on many levels. Traditionally, Tinder has been all about one-on-one interactions, but it lends itself well to group-dating scenarios, whereby a group of girls and a group of guys looking for romance can meet up in unison. Granted, that's not how Tinder is pitching this new feature, but it's clearly one of the many use-cases that this gives rise to.
Elsewhere, Tinder has been pushing to build its brand beyond relationships entirely, recently playing political matchmaker in the U.S. presidential campaign and also backing the NHS in its push to drive organ donations across the U.K.
Tinder may be trying to position itself as being something more than a dating app, but as a brand that is almost synonymous with hookups and online dating culture, it may have a tough time doing so.
Source: Venture Beat