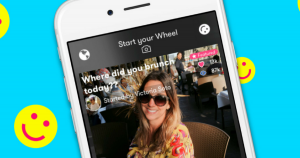 Tinder has announced that it is to acquire a social video startup called Wheel, which lets users share Snapchat-style video clips.
The LA-based app was originally launched in 2015 under the name Ferris on the premise of making it easy for people to share and collaborate on mobile videos with their friends.
Tinder has now inked a deal to takeover Wheel and according to Variety the buyout will see the dating app weave video features into its core app.
Wheel's chief executive Paul Boukadakis is joining Tinder as vice-president of special products, while the startup's chief technology officer Chris Shaheen will step into a senior position in Tinder's engineering team. Wheel's two co-founders, Joey Boukadakis and Brian Daugherty, are also joining Tinder.
Wheel has previously been compared to Facebook's social video app Riff and Snapchat's Stories offering which lets users stitch together and share short clips.
"We are always exploring new ways to innovate while helping our users make connections on Tinder," said Brian Norgard, Tinder's head of product and revenue in a statement.
"I'm excited Paul [Boukadakis] is joining our product team to drive special initiatives that leverage his experience connecting people around innovative content."
The details of the agreement are not being released, and Tinder has yet to comment specifically on how it plans to incorporate video into its app.
Earlier this month, Tinder revealed it was working with Facebook Audience network to allow advertisers to purchase ads programatically. The move means targeted in-app ads will be served up to Tinder users via Facebook's third-party ad network, and will help boost the dating service's ad revenue – its second biggest source of income behind its premium subscription model.
Source: The Drum