The New York Times in partnership with T Brand Studio, Google, GE, and Mini, won the mobile category's Grand Prix award at the 2016 Cannes Lions International Festival of Creativity for its integration of virtual reality smart phone technology and Google cardboard headsets to provide its readers with an unprecedented virtual reality experience.
NYT has been known for its longevity of boundary-breaking news reporting. Its readership consists of a vast quantity and wide range of people, including executives and tech enthusiasts who were the perfect platform to launch such an innovative form of story telling.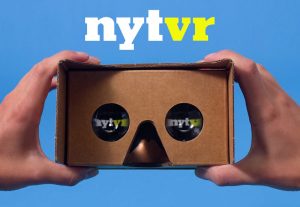 NYT distributed Google cardboard headsets–easily foldable cardboard virtual reality smartphone holders–among its large network of 1.3 million subscribers. The NYT VR app in conjunction with the Google headset allowed for a record number of people to be fully immersed in the wonders of virtual reality. It was the largest ever distribution of VR content.
The NYT VR app originally came with three videos. NYT's, "The Displaced," enabled audiences to experience the child refugee crisis first-hand, while GE helped audiences witness how nature is the source of innovation of their products and Mini allowed them to star in two action-thrillers. New VR films from Lufthansa, Weistein Company, and more are being added to the NYT VR app to help users enjoy different adventures that they would never have the opportunity to experience in reality.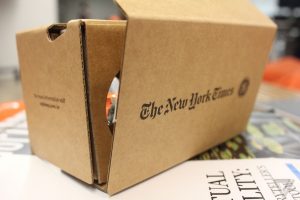 The outcome of the partnership and innovation of these forward thinking, innovative brands was outstanding. NYT saw over 500,000 downloads of its app and 1.5 million views of its VR content. Before NYT VR, VR technology and 360 video had failed to enter the mainstream of story telling and advertising. Now, brands are looking to incorporate VR into their marketing strategies.
Ironically, "it [took] the print newspaper—a 164-year old business—to deliver one of the most advanced digital storytelling technologies," Meredith Kopit, NYT's Executive Vice President and Chief Revenue Officer, said.
Through the innovation of NYT and Google, NYT VR has ushered in the age of virtual technology, and won a Grand Prix Cannes Lions award while doing so.
Article by Haley Manin, Lovely Mobile News