"No touching!"
The phrase is the bane of many children who find themselves in museums meant to teach them how to appreciate art … but instead teach them they're bulls in china shops.
This must be all the more frustrating for the blind, who mostly can't conceive of the art at all if they can't use their other senses. With this in mind, the National Gallery of Prague launched "Touching Masterpieces," a campaign that lets them touch iconic sculptures in virtual space.
Created with help from Geometry Prague and NeuroDigital, in collaboration with the Leontinka Foundation for the blind and visually impaired, the virtual reality experience features haptic Avatar VR gloves, specially adapted for this campaign, that let the blind "touch" work like Michelangelo's David, Venus de Milo and the bust of Nefertiti.
Think of it as the anatomy lesson you never had.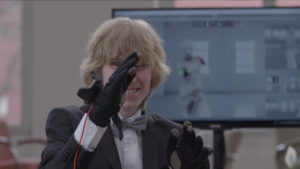 "Blind children are usually taught in school with relief aids and tactile pictures that far from accurately reflect reality," explains Barbara Hucková, executive director of the Leontinka Foundation. "This new technology is an incredible breakthrough allowing pupils to touch what was absolutely unattainable before."
Like the world imagined in Ready Player One, haptic gloves enable you to touch 3-D objects in virtual space. When you reach out to touch something, your sense of depth and texture passes through the unit as vibrating feedback. Multi-frequency technology can stimulate different types of skin cells' tactile responses, giving the blind a detailed "sense" of the object they're touching.
"Through curiosity, pursuit of innovation and a passion for creativity, we realized that specially-adapted haptic technology could open doors to a unique art experience for the blind," says Geometry Prague creative director Julia Dovlatova. "Our collaboration with NeuroDigital helped us fine tune haptic gloves to 'see' art through virtual reality touch."
"Touching Masterpieces" went live at the National Gallery of Prague between March 23-24.
Source: Adweek