YouTube has struck a partnership with custom merchandise company Teespring that lets creators directly sell merchandise through their channels, without viewers ever leaving the page.
Teespring and YouTube, will expand the ability for eligible creators in France, Germany, Italy, Netherlands, Portugal, Spain and the United Kingdom to sell merchandise on their channels. This follows the announcement at Vidcon 2018 in June, that merchandise with Teespring is available to US-based monetized creators with 10,000+ subscribers.
This feature enables eligible creators to sell merchandise to their fans and is directly integrated into the user experience on their channel. This partnership has been developed to provide a seamless point of sale for YouTube creators' communities, which is simple to add to video pages on their YouTube channels.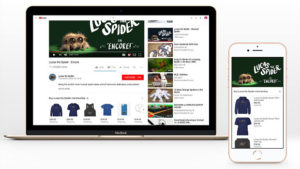 The merch shelf feature on YouTube works across both mobile and desktop video viewing, allowing shoppers to browse without ever leaving the page. The shelf is updated with new products, including t-shirts, tote bags, phone cases and more, shortly after they are created on the Teespring website by participating YouTube creators.
Sarah Clatterbuck, Director of YouTube Alternative Monetisation Engineering, said: "We're excited to make the merch shelf available to more creators and fans. This is one part of our larger effort to diversify revenue streams for creators, making content creation on YouTube a sustainable business opportunity. "
Chris Lamontagne, VP Commercial at Teespring, adds: "At Teespring, we have been delighted with the success of the Merch Shelf in the US, and the natural next step was to roll out the feature in the EU as soon as we could. This expansion gives European creators a platform on which they will make more money from their merchandise than they would from similar competitors. Traffic on the Merch Shelf is also set to take over traffic from the standard description links on YouTube, as it has in the US. These early successes encourage us to continue to empower and support even more YouTubers around the globe."
Source: Net Imperative