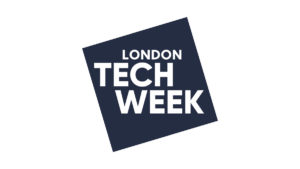 A London technology leader is calling to get more young girls into tech. As London Tech Week 2019 recently launched, committing not only to lead the way in tech innovation, abut to tackle head-on the issue of diversity in the industry.
A leading female figure in technology in Britain has called for the "needle to be moved" in teaching to encourage more girls to get into tech subjects from a young age.
Carolyn Dawson, Managing Director of the UK's leading technology event London Tech Week, said that a lack of diversity within the tech industry can be traced all the way back to children's education.
"My perspective has changed. A couple of years ago, I thought I could make a difference by trying to get the industry to pay attention, but I've really taken that down a notch actually. I now think it really does all start back at the school. There's still this perception, even from parents, that science, computing and STEM topics aren't really for girls. So from such an early age it's almost discouraged. Equally, when I look at some of the teachers educating our children, they're not up to speed with digital and the impact of digital skills. We need to move the needle somehow or this problem just won't stop," said Carolyn.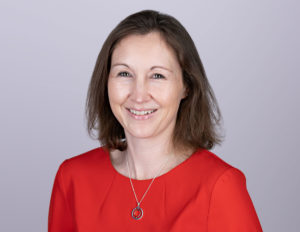 She is now Managing Director for the Technology, Media & Telecoms (TMT) division within KNect 365, and has been chief organiser of London Tech Week for the past three years.
As London continues to be Europe's tech investment capital – raising £1.8bn in VC and public funding in 2018, with more IPOs than anywhere else in Europe – this year's Tech Week will once again unite tech and talent with a packed schedule of events showcasing the latest innovations in AI & quantum computing, blockchain, the future of work and more. 
Tech Week will take place across London from 10-14 June and Ms Dawson and the team are committed to "not only to lead the way in tech innovation, but to tackle head-on the issue of diversity in the industry", with a full commitment to Inclusive Innovation across its event schedule. 
"the 4th Industrial Revolution is well underway transforming business, society and the way we live. The UK continues to innovate as a worldwide cutting-edge tech hub and, as one of the world's most open and welcoming markets, can lead the global conversation in designing and scaling tech business," Carolyn continued.
"London Tech Week looks not solely at the technology, but at the opportunities and challenges that are forming around the digitisation of society – tech in a new era of trust, evolving the workforce and developing the UK and international talent pool are issues high on the agenda. The event connects international communities from across the spectrum to address how access to tech for all can have a profoundly positive impact on society and business."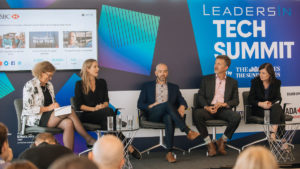 According to a 2018 report, only 14.6% senior UK tech leaders are women and 70.5% senior executive teams have no BAME members at all. This year's Tech Week seeks to address this imbalance, with a suite of initiatives to make it easier for people of all backgrounds to access careers in tech.

The Mayor of London, Sadiq Khan, said: "It's important that the tech sector reflects the diversity of the capital and so it's really encouraging to see this emerge as a major theme of this year's London Tech Week – it's right that we lead by example in a city as progressive as London. London is Europe's leading tech hub and our tech sector is a vital source of jobs and growth for the economy. From Fintech to Artificial Intelligence, London companies are leading the way in developing ideas and technologies to change the world."
This year's headline partners are Microsoft and IBM who are also backing the call for more diversity in the sector.
UK CEO of Microsoft Cindy Rose says, "At Microsoft, diversity and inclusion are an inherent part of our mission to empower every person and organisation on the planet to achieve more. As the world around us digitally transforms at pace, we believe everyone should have the opportunity to fully participate and prosper in the future workforce. Whether that is through investments in skills for the future, building diverse and inclusive workforces and workplaces or developing products and services accessible to everyone, our industry has a responsibility to lead the way. This is why Microsoft proudly supports London Tech Week and its focus on bringing together UK tech firms, large and small, to tackle these critical topics."
Bill Kelleher, Chief Executive, IBM UK and Ireland said: "London continues to experience explosive growth as a major hub. We applaud Tech Week for highlighting the importance of diversity and inclusion in accelerating growth and innovation. The potential of technologies to transform markets have created a powerful opportunity for the tech ecosystem to empower people to do good."
A range of partner organisations will be at the Inclusive Innovation lounge – a space to unite the diversity and inclusivity initiatives under one roof. This physical hub will enable the many movements, advocacy groups and associations to come together at London Tech Week. Partners include WISE, ColorInTech, Queer in AI and CodeYourFuture, amongst many others.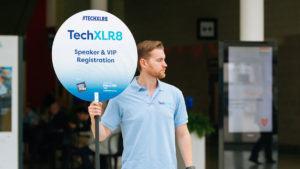 The initiative also includes a Schools Competition, encouraging year 9 and 10 students to submit their ideas on how they would use technology to improve the lives of Londoners. By investing in the minds of tomorrow, this event paves the way for the next generation of tech leaders and is open to children of all backgrounds.
This year's festival of events is being supported by the Mayor of London's office and HM Government, under its Industrial Strategy. The Government is supporting the event through a number of initiatives and numerous speaking and public engagements.
The capital continues to be a hub for innovation, with more than three times as many AI startups in London as any other city in Europe. We were home to 745 AI companies in 2018. AI was the UK's fastest growing sector in 2018, achieving a 47% year on year increase in investment as it attracted £736m.
Brexit will undoubtedly be on the minds of this year's speakers and attendees, as the industry sizes up the impact of our exit from the European Union. However, the capital remains a leading tech player, with London tech firms having attracted more than £4bn in VC funding since 2016, almost double its nearest European rivals – Paris, Berlin and Stockholm – combined.
The week-long London Tech Week will see a wealth of talent flood the capital.
The flagship event, TechXLR8, will be held at ExCel London. TechXLR8 will focus on the transformational impact of technology on business and industry, enabling attendees to experience first-hand the technologies fuelling the business revolution. There will be live tech demos and immersive showcases of cutting-edge tech innovation.
Within TechXLR8 will be an exciting programme of events exploring diversity & inclusivity, the future of work and AI & machine learning. Speakers include the CEOs of British Airways, Barclays and Facebook, as well as CTOs of WH Smith, DirectLine Group and ASOS.
Events for 2019 include:
London Tech Week saw 55,000 attendees last year. It is anticipated that this year's TechXLR8 will welcome more than 15,000 attendees, 8,000 companies, and 600 tech guru speakers. There is set to be more than 300 exhibitors, with at least 90 countries represented (with nearly 70% attendees at director level and above).
Source: London Tech Week