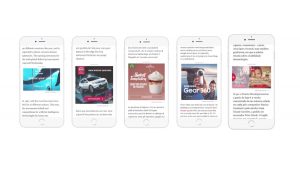 Native advertising company Teads has entered the display ad market, making it the 'first viewable marketplace' with a premium video and display ad cross-device inventory.
Teads' suite of inRead display products are placed into editorial content and are promised to be 'viewable by design'. Products include Scroller, Canvas, Swing, Slideshow and Carousel.
With the introduction of display ads, Teads now enables advertisers to run sequential targeting campaigns across both display and video from within the same platform – meaning advertisers can run campaigns that cover the entire purchase journey.
"Current display offerings in the industry provide a poor user experience and low viewability, so we saw a huge opportunity to transform the ecosystem," said Bertrand Quesada, Teads CEO. "Our new viewable display formats coupled with our hugely successful inRead video products now allow us to offer advertisers a first of its kind viewable marketplace, ensuring viewable, brand-safe, and fraud-free ad experiences."
Teads' display units can be purchased by advertisers through managed services, with guaranteed inventory, or through programmatic private marketplace deals. DSPs, including AppNexus, MediaMath, Centro, and DoubleClick Bid Manager, are certified to run Teads' display formats.
Source: Mobile Marketing Magazine