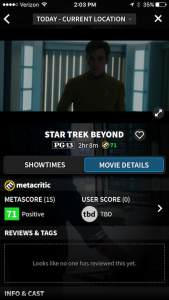 Paramount Pictures is launching an immersive campaign to increase theater visits for the upcoming installment of its Star Trek franchise in partnership with ticketing application Atom, including exclusive video content on the platform and free tickets.
Exclusive content for Star Trek Beyond is being shared on the Atom app for viewers to get an inside look into the film, enticing more theatergoers. The campaign is beneficial for both Atom as well as Paramount, as an in-theater video ad is encouraging users to download the app to view the content and receive a free ticket for first-time installers.
"We are thrilled to launch our Atom 360 marketing program with 'Star Trek Beyond.' We're using our multi-faceted Atom Tickets resources to drive excitement and ticket sales for Paramount, Skydance, and Bad Robot's legendary franchise," said Matthew Bakal, executive chairman and co-founder, Atom Tickets.
Snackable content
The Star Trek Beyond page on Atom's app is featuring an exclusive one-minute video that gives users an inside look at the film. The video, created in a snackable format to entice on-the-go users who are deterred by long-form content, showcases the internal struggle the film's main character has to face.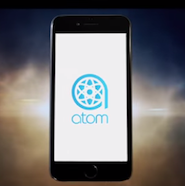 Atom is a mobile ticketing app similar to Fandango. While Fandango has a significant user base, Atom has been garnering a lot of attention from marketers sharing exclusive film content.
Users can also watch the film's trailer and look at other pictures from the film. Star Trek Beyond releases in theaters on July 22, and users will be able to view show times and purchase tickets directly within the app.
A video advertisement online and at AMC Theatres and Regal Cinemas for two weeks is promoting the Atom with Star Trek Beyond branding. The video gives viewers an introduction to what Atom is, while displaying footage from the Star Trek Beyond film and prompts fans to use it to see the film.
Viewers are enticed to download the app to receive one free ticket for using the app for the first time, hoping to attract more users with the freebie and content related to a popular franchise.
Films and mobile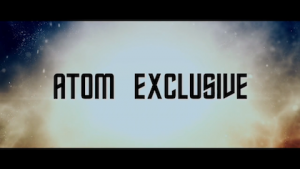 Similarly, Warner Bros. brought its big-screen superhero film to the small screen with a sponsored 24-hour Discover channel on Snapchat as part of the social media hype to include mainstream consumers in the fan frenzy.
Also, motorsports cable network MAVTV partnered with social media application Clippit to share clips from the network with fans, putting promotion in consumers' hands to create a more widespread and authentic marketing representation.
"Paramount has been a great partner, and we're breaking new ground to help market one of the biggest movies of the year," Mr. Bakal said. "We're delighted to contribute to Star Trek's legacy of technological innovation."
Source: Mobile Marketer