Last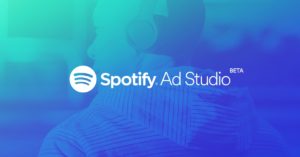 Fall, Spotify launched Spotify Ad Studio, the first-ever audio self-serve advertising platform, in the US. The platform now embarks on a world tour as the public beta expands to Canada and the UK.
Spotify Ad Studio makes it easy for marketers of all sizes to create audio ads on Spotify in minutes, letting them connect with the music streaming service's audience. It's targeting features aren't just based on age, gender and location, but also genres and playlists.
Spotify Ad Studio's intuitive creation process lets marketers simply share a script, pick a background track, and then receive a fully-produced audio ad to review, complete with a recorded voiceover. Or if marketers already have an audio ad, they can simply upload it. From there, marketers can pick their target audience, customize their budget and campaign dates, and track results.
In Canada and the UK, the streaming service has been working with partners in a closed beta to test the platform, who are already using it to reach Spotify's audience.
"Spotify Ad Studio lets us connect with listeners who are already engaged and plugged in," said Mark Kovic, label director at Kovic Productions, one of the beta test partners in the UK. "On other platforms, you spend a lot of time trying to find an audience of music fans — on Spotify, they're already listening."
Source: Spotify