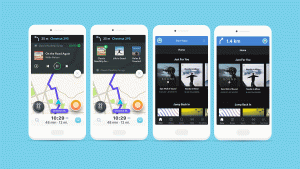 Music streaming platform Spotify has integrated with traffic and navigation app Waze, and vice versa, to make it easier to control music and follow routes at the same time.
The integration will enable users to navigate to a destination within the Spotify app, or control their playlists from Waze app while following directions. In addition, users will be able to switch back-and-forth between the apps with one tap.
"Thanks to Spotify, your killer playlists (and even the embarrassing ones you'd prefer to listen to with the windows up…) are all on the very same screen. No more awkward flipping back-and-forth between apps or ending your favourite Friday-in-traffic tune to find the quickest way to the grocery store," said Waze in a blog post.
Both Spotify and Waze say they have put safety first, so their apps will prevent drivers from browsing while the car is moving – so users must be at a complete stop.
Unfortunately for iPhone users, the integration will only be rolled out over the next few weeks to Android users for the time being. Waze says it will keep iOS users 'posted'.
Source: Mobile Marketing Magazine