Online bookmaker Sportsbet is promoting its new 'Foolproof' iPhone app by collaborating with famous personalities around the world.
The film created by Emotive features former NRL player Todd Carney and flat earth theorist Mark Sargent, among others talking about the easy usage of the app.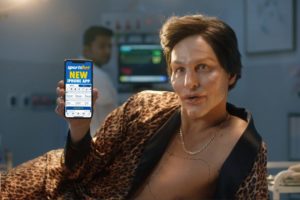 The campaign will be supported by OOH in airports, gyms and roadside locations across the country.
Tim Hernadi, general manager of Marketing, Sportsbet said: "This campaign has been developed with the Sportsbet audience clearly in mind. Designed to bring a smile to peoples' faces by taking the mickey in an endearing way, it simply highlights how Sportsbet's new iPhone app is so easy to use, it's foolproof."
Ben Clare, group creative director at Emotive added: "You'll never be everything to everyone. And that's what makes it so liberating to work on Sportsbet. The confidence they have in their own brand DNA, and a willingness to take risks in a world that seems so averse to them right now, allowed us to create something timely and true to the brand's voice. And have a lot fun doing it."
Source: The Drum