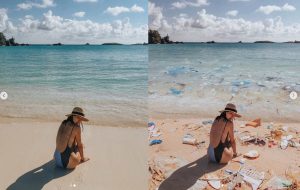 Social Chain, the global, social-first marketing agency, and Brita, have launched #NoFilterNoFuture, a breakthrough social media campaign aimed at jolting people to take action to reduce single-use plastic waste, while driving awareness and purchase intent for Brita's Filtering Water Bottles.
The campaign includes content creation by Instagram influencers, with their posts featuring shocking photoshopped imagery depicting beaches and oceans extremely polluted with plastic garbage and bottles.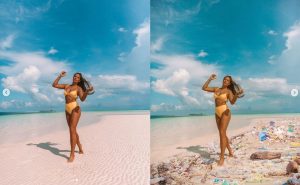 The campaign consists of 21 influencers who have posted beautiful beach vacation pictures all at the same time – but with a jarring twist. These pictures have been photoshopped to feature a litter of plastic on the sand and within the ocean, providing a foreboding insight into what these beaches could look like if people don't pledge to reduce their plastic usage.
The influencers' captions warn of a future where the days of enjoying pristine, Insta-ready beaches could be behind them, if people don't act now. The influencers also pledge to reduce plastic waste.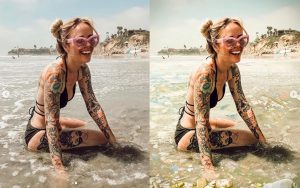 Cathal Berragan, Creative Director, USA; Social Chain, notes: "Influencer marketing has become a heavily saturated marketing channel. With hundreds of sponsored posts going out daily, we wanted to create a campaign that encourages people to stop their social media scrolling and immediately captures their attention. Many influencers have been called out for photoshopping their post images to make themselves and their surroundings look more appealing. In this campaign, we aim to use photo editing for good. The littered beauty spots are a stark contrast from the usual polished images we're used to seeing on our feeds, and they offer a fresh, authentic and striking depiction of what our planet could look like if people don't curb single-use plastic waste."
Rachel Shavhar, PR/Social Lead, Brita, says: "By 2050, there will be more plastic than fish in the ocean. We're excited to partner with Social Chain and influencers who are passionate about the crucial issue of ocean plastic pollution to make a bold statement that inspires people to reduce single-use plastic waste."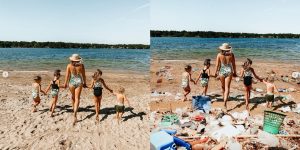 These influencers will soon follow up with posts that outline how they plan to execute on their pledges and speak to how Brita's Filtering Water Bottles offer a way to decrease the use of plastic bottles. These posts will be complemented by additional IGTV and Instagram Story content that shows the benefits of the Filtering Water Bottle and how the influencers are enjoying them in their day-to-day lives.
The influencers who posted #NoFilterNoFuture posts: @kyleecampbell; @laurajung; @anastasiaashley; @jamienkidd; @kaileemckenzie; @theworldpursuit; @alyshanett; @jjyosh; @lisahomsy; @wispyfeatherfarm; @northcountrylittles; @lexiconofstyle; @ownbyfemme; @amelia.edmondson; @loveandlarock; @julietdoherty; @malloryonthemoon; @luda_; @kevindroniak; @jeanineamapola; @allegraroseb.
Source: Social Chain