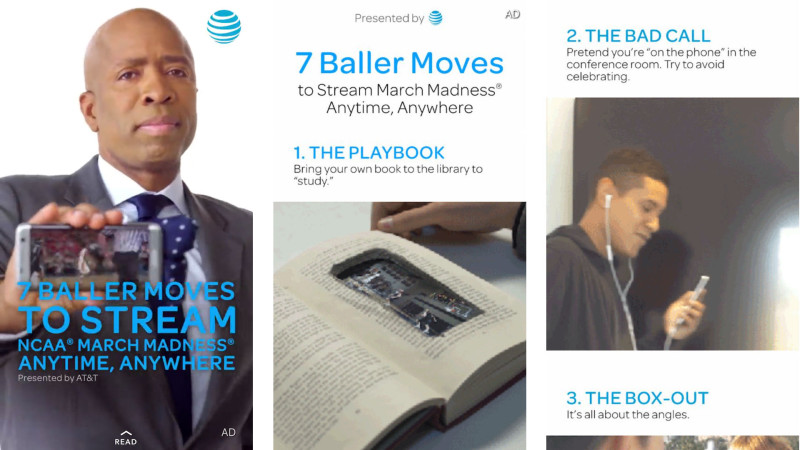 Snapchat has started testing ads that let marketers like AT&T attach branded articles containing text, images and GIFs to their 10-second video ads.
Snapchat's advertising business has only been around for about 17 months, and in that time its ad formats have been pretty basic: 10-second vertical videos slotted between posts in its Live and Local Stories or content in publishers' Discover channels. That's changing.
A couple of months after Snapchat rolled out its first app-install ads, the app has begun testing a new type of interactive ad that lets brands append branded articles to Snapchat's standard vertical video (or 3V) ad format, a Snapchat spokesperson confirmed.
AT&T appears to be the first brand to try out the new format with a campaign that began earlier this week in BuzzFeed's Discover channel and has expanded to other Discover channels, including Refinery29's. In AT&T's example, people can swipe up from the video to see a listicle of GIFs to promote the ability for people to stream NCAA tournament games on their smartphones.
While AT&T has adopted a listicle format for its campaign, it's believed that the new format caters to any style of branded article that incorporates text, photos and GIFs.
The more interactive ad format could boost Snapchat's pitch to brand advertisers looking to expose people to their brands for as long as possible, assuming Snapchat green-lights the test into an official ad format. And Snapchat appears to be fully aware of that. Last November, Snapchat started testing video ads that were longer than its standard 10-second length, which has been used by film studios to run 90-second trailers promoting movies like "10 Cloverfield Lane."
The article-oriented interactive ads would also offer brands another outlet for the text-based branded content they're creating. And it could offer Discover publishers that create those advertorials with brands, like BuzzFeed and Mashable, another option when selling their Snapchat channels, as well as a way to better bundle those Snapchat sales with their other properties without a need to produce — and the brand to pay for — extra content unique to each distribution outlet.
Source: Marketing Land