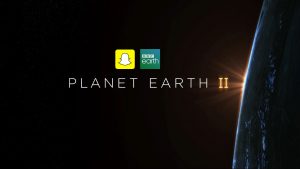 BBC Worldwide has partnered with Snapchat to launch an exclusive Planet Earth II series on the Discover platform in the US and Canada.
Audiences will be introduced to the first showing of 'never-before-seen' footage a day prior to the show's 18 February debut on BBC America in the US and BBC Earth in Canada.
Nick Bell, VP of content for Snap Inc., said: "For millions of Snapchatters, our app is their first screen – and this will be their first introduction to the unbelievable cinematic quality, storylines and stunning visuals of the Planet Earth franchise. We saw a unique opportunity to work with BBC Worldwide to reimagine Planet Earth II for our platform. We can't wait for our community to get to experience it."
The Snapchat exclusive series, produced by BBC Studios' Natural History unit, will include six episodes 'featuring new scenes that have been specifically crafted for Snapchat's vertical mobile viewing experience'.
In conjunction with the partnership, Snap will also introduce features for Snapcodes. Snapchat users are able to use the Planet Earth II Snapcode to subscribe in advance for the premiere of the show on Snapchat. In addition, once the show begins airing on Snapchat, users will be able to use the code to view the most recent episode – even if not currently live on the app.
Tim Davie, BBC Worldwide CEO, said: "This collaboration is all about taking a mobile-first approach to our amazing natural history landmarks. And reaching untapped audiences to showcase jaw-dropping content on Snapchat is the perfect way to pay testament to the film-makers who produce these world-class shows."
Source: Mobile Marketing Magazine