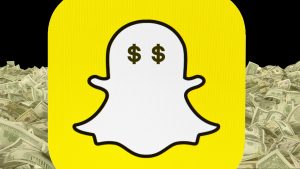 Snapchat has been growing at rate faster than any other social media app. Millennials seem to love it, and even famous personalities born in the 1920s have recognized its potential. Indeed, former Israeli president and towering political figure Shimon Peres joined Snapchat in the very last days of his life.
Credible rumors suggest that a Snap Inc. IPO could happen as early as next March. The mobile messaging company's value could be set at some $25.0 billion, according to The Wall Street Journal. (Source: "Three Big Advertising Questions Hanging Over a Snapchat IPO," The Wall Street Journal, October 6, 2016.)
That's a nice sum above Snap Inc.'s latest valuation of $17.81 billion.
As popular as Snapchat has become, social media IPOs are not always successful. Average investors are still unsure how these businesses make money. The basic premise of higher number of users attracts the most advertising is common. But it only works when explaining social media valuations to your brother in-law over Thanksgiving dinner. The one thing to stress is that even Facebook Inc (NASDAQ:FB) had a lackluster IPO, before rising to a frankly insane $369.0 billion valuation.
Some Tech IPOs Aren't so Lucky: Twitter, for Example
Other IPOs, like Twitter Inc (NYSE:TWTR) for instance, have not been as lucky. But there is a good side also. Even bad social media IPOs can end up in a takeover. Again Twitter, LinkedIn Corp (NYSE:LNKD), and even Verizon Communications Inc. (NYSE:VZ) wants—or wanted?—Yahoo! Inc. (NASDAQ:YHOO) for its social media potential. So a Snap Inc. IPO might be as profitable as it is inevitable, but it does not offer any guaranteed financial miracles for investors.
What a Snap Inc. IPO does is put more pressure on the company to develop and enhance its advertising revenue strategy. Still, a Snap Inc. IPO does have an element of novelty going for it. At $25.0 billion, no tech company has had an IPO this rich since Alibaba Group Holding Ltd(NYSE:BABA) enjoyed its $231.0-billion Wall Street debut in early 2014. It's also bigger thanGoogle—otherwise known as Alphabet Inc (NASDAQ:GOOG)—when it went public. (Source: "Snap's IPO Could be Bigger than Google's," Business Insider, October 7, 2016.)
What's Got Investors Excited about a Snap Inc. IPO?
Snapchat has gained great popularity among teenagers and young adults, the so-called Millennials. The app, like all ideas that make money, have a simple concept at the core. Snapchat offers users the ability to send messages that disappear soon after their recipients see them. It boasts having over 100 million users.
The company had also announced last month that it would launch connected glasses equipped with a miniature camera. That is when Snapchat became Snap (hence Snap Inc.) to show that it was no longer limited a single product. That's another sign that would suggest an imminent IPO. Snap Inc. hopes to persuade investors about its investment case by showing advertising revenue growth.
Snap Could Make a Billion in Advertising
Snap Inc. said its ad revenue next year could reach nearly $1.0 billion worldwide. (Source: "Snapchat is worth $25BILLION: Photo-sharing app given huge value as parent company draws up plans to start selling shares," Mail Online, October 6, 2016.)
Still, apart from the Snapchat app and its popularity and alleged ability to exponentially increase advertising, what makes the Snap Inc. IPO so appealing is its rarity.
Indeed, the number of sector companies that have dared to take a gander at Wall Street has slowed in recent years. They worry about concerns over a "bubble" in valuations of unlisted startups. Snapchat founder Evan Spiegel has so far refused to sell his company, rejecting in particular offers from the likes of Facebook even—a few years ago.
But, Snapchat is not Uber Technologies Inc. or SpaceX. The latter two are involved in designing projects with huge financial and human life risk. The other is a way to send photos online that disappear.
Still, the valuations, the interest, the timing, and the potential advertising revenue suggest that a Snap Inc. IPO will hit its $25.0-billion target. This suggests that there will be the kind of buzz that could push the IPO way above target, as investors seem eager to get new energy in the dizzying potential of tech stocks.