After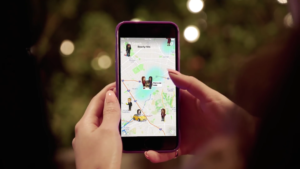 the misstep that was the app's always-on location broadcasting Snap Map, Snapchat is taking another run at a location sharing tool for users, with the ability to send your position to a friend or request one from them.
The feature marries the mapping power of the app's earlier Snap Map with a more private and person-to-person approach that mirrors Snapchat's origins as a messaging app. Once shared with another user, your location appears within your message thread with that person, and on their version of the Snap Map.
The feature has been undergoing a stealth roll out on iOS and Android over the past few weeks. The feature requires both users to be following each other, so celebrities and influencers won't find themselves suddenly beset with hundreds of thousands of requests for their location. Users can also turn off requests within the app's settings.
Locations that are shared through the feature are live for eight hours, and can be cancelled at any point through the Snap Map. While the Snap Map met with a mixed response upon launching, the firm is clearly still interested in supporting the feature. Alongside the Discover tab, it remains one of Snapchat's unique selling points, especially as more and more competitors copy the app's 'Stories' format.
Source: Mobile Marketing Magazine