Snapchat has revealed a fresh look for its Discover and Stories section, in a bid to boost its audience and keep publishers using the platform happy.
Active media owners on the platform, which include the likes of Daily Mail, Mashable and BuzzFeed, will now see their content distributed in a more magazine-like style, which places stories front and centre.
As rumoured last week, Snapchat has ditched the familiar circular icons which previously linked through to publisher's channels, instead replacing them with square tiles which instead direct readers to individual stories.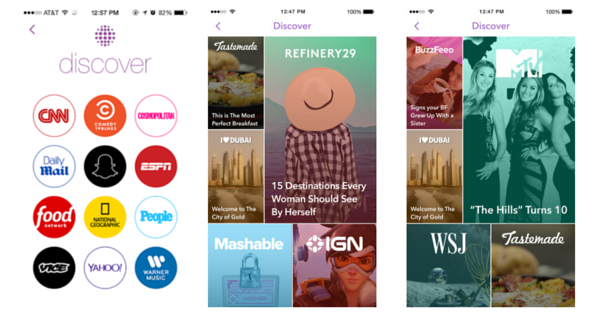 The squares comprise images and headlines to make navigation easier for readers, while a new feature will give Snapchatters the long-requested ability to subscribe to their favourite publishers' channels.
So, for example, someone interested in celebrity gossip could sign up to the Daily Mail and People magazine's feeds and forgo option to view content from the Food Network or the Wall Street Journal – and vice-versa.
In addition to the updates made to Discover, Snapchat's Stories tab been rejigged. It will now display content from channels users have subscribed to as well as stories shared by friends and live events.
The changes bring the messaging app's design closer to services like Apple News, and lets users better tailor which content they lay eyes on. It also means pieces posted by publishers will sit alongside Live Stories Snapchat's team curate from around the globe, giving a more native appearance.
Subscriptions, meanwhile, will give media brands another metric by which to judge their channel's success, measurement has been an issue for Snapchat in the past but it looks to be attempting to change that. Back in April, it was reported that the startup was in talks with ComScore to allow media owners to better measure how their content is consumed.
Source: The Drum