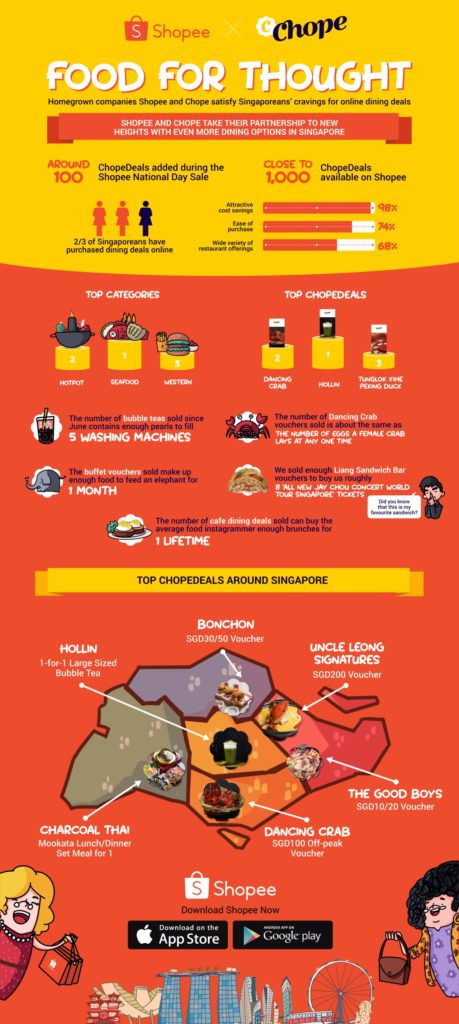 Singapore-based eCommerce platform Shopee has joined forces with dining deals platform Chope to offer special deals to its users as part of its celebration of Singapore's 54th birthday.
Shopee will hold a National Day Sale from August 5-9, and adding around 100 dining deals to users, who can also choose more than 1,000 deals on the Chope Official Store on the platform.
The Tencent-backed platform said it wants to target Singaporeans who love dining deals, as a recent survey it held showed that two-thirds of Singaporeans have purchased dining deals online.
The findings showed that Singaporeans were drawn to attractive cost savings (98%), ease of purchase (74%), and the wide variety of restaurant offerings available online today (68%).
"Our partnership with Chope has been a natural fit from the start – both Shopee and Chope strive to provide Singaporeans with the best online shopping experience possible," said Zhou Junjie, the chief commercial officer at Shopee. "The advantage of being homegrown companies is our deep and nuanced understanding of local consumers and their shopping habits, which allows us to respond to Singaporeans' needs and preferences more efficiently. Our partnership with Chope also reinforces our commitment towards enabling local sellers to extend their reach online."
Jean Wee, the general manager at Chope Singapore added: "Shopee has been a strong partner for Chope in Singapore. By leveraging on Shopee's local expertise and data-backed insights on shopper habits and preferences, we are able to better understand our customers by anticipating their needs and delivering reliable customer experience. Our recent Birthday Flash Sale in June saw a five-fold increase from last year's event. The ChopeDeals Official Store on Shopee also doubled its orders in the first half of 2019 from the previous half. We expect this number to grow further during the upcoming sales season as diners continue to seek attractive dining deals to enjoy."
Source: The Drum