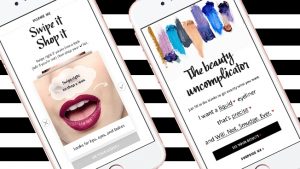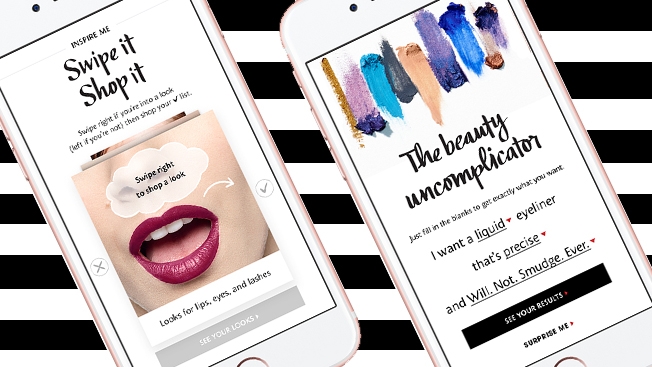 Sephora has led the pack in mobile beauty retailers for a few years, and now it's taking a page from games and pop culture to help re-launch the Sephora Collection—its private label brand.
Sephora's mobile and desktop site now includes two new features—dubbed "swipe it, shop it" and "beauty uncomplicator" that help shoppers whittle through thousands of makeup and beauty tools to find what they're looking for. The features support, "the biggest single ad buy that Sephora has made for the Sephora Collection brand," that will roll out this fall, said Deborah Yeh, svp of marketing and brand at Sephora.
The beauty retailer has created 1,000 photographs of products and swatches and is running ads on Tinder and mobile-rich media promos for the launch.
"We're trying to create these really fun, addictive shopping experiences," said Yeh. "We offer a huge range of products in every category, but we also have the full, 360-[degree] retail and digital experience in addition to that product."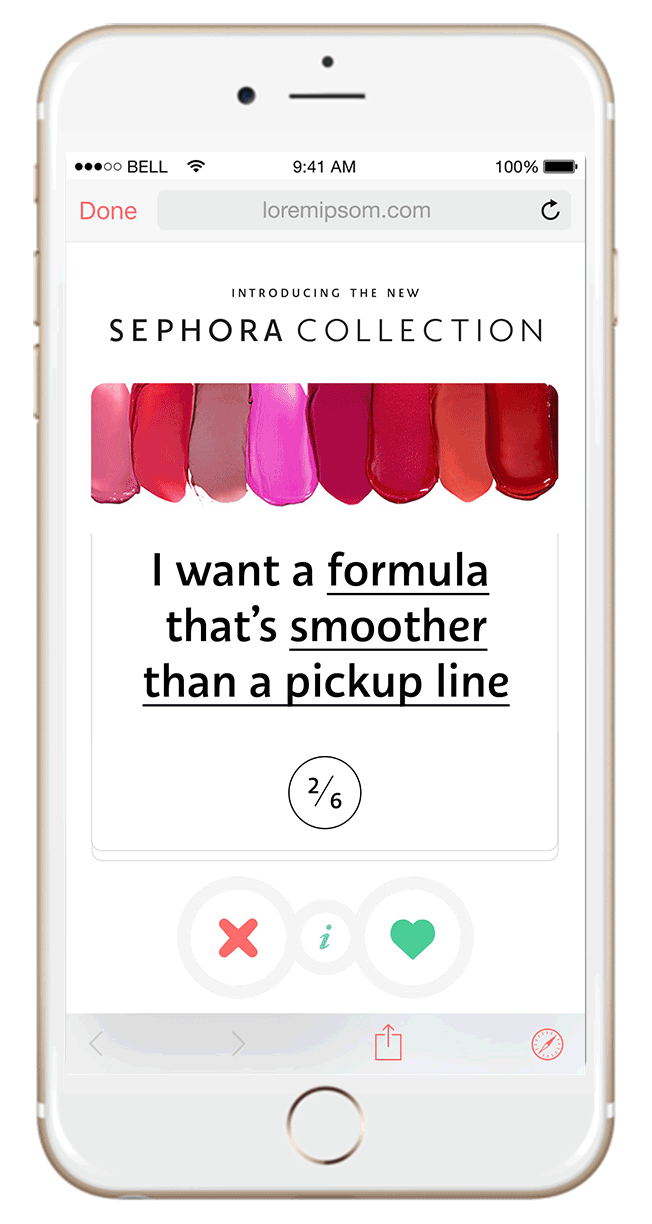 The first feature, "swipe it, shop it," uses Tinder's popular design to show a series of shoppable looks. Each look resembles a Tinder card that users can either swipe left or right to buy from Sephora.com.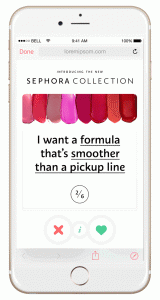 In the coming months, Sephora will be able to add in photos of consumers' own looks. "We had to start by populating with what assets we have, but in the future, we'll have the opportunity to make this user-generated," Yeh said.
To promote the feature, Sephora will become the first beauty brand to buy ads on Tinder that use a polling feature on the dating app in September.
First, branded cards prompt users to click and take a poll to get a free sample of a product. After answering a handful of questions, consumers can then click through to receive their sample from Sephora's website.
While Sephora is the first beauty brand to test out polling ads on Tinder, Dr Pepper and Dentyne have also run similar campaigns with the dating app.
"When we started this, we didn't anticipate that we would be actually advertising in Tinder," Yeh said. "It had been a form of inspiration, but as we spent more time talking about it, Tinder itself became a potential place to market."
Makeup Mad Libs
The other web feature is a three-step questionnaire dubbed the "beauty uncomplicator" that helps people find the right makeup and tools.
"It harkens back to that old school, Mad Libs, fill-in-the blank party game that people used to play," Yeh said.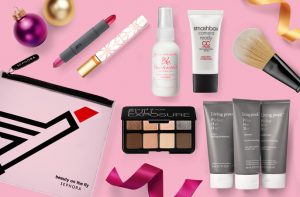 For example, people can use the tool to whittle down Sephora's products to only show long-lasting matte lipsticks or eye shadow brushes specifically designed to create a smoky eye.
The media buy for ads promoting "beauty uncomplicator" includes rich media promos run through MobileFuse, Kargo and Undertone. There are also in-store and print components to the campaign that tie back to the product launch.
"I have the ability to not only think about how to position that product to deliver a full experience—all the way to the store experience that she sees—to how she experiences it in digital and in mobile," Yeh said. "This is an example of not just having a marketing campaign, but thinking about a full client experience."
Source: Adweek