"Do it", "everything is possible", "yes, we can!" are phrases that we see everywhere. In sport clothes brands, isotonic beverages, yogurts, books, preachers and politicians. The culture of "you can" has taught us that with effort and perseverance we can do anything. But the truth is that there is something we can't do: win the fight to not fall asleep when we are already sleepy.
Copilot Samsung is a free app for smartwatches that permanently tracks the alertness of the driver and warns him before he falls asleep.
The app is for initiative #technologywithpurpose, that has been launched by Samsung and Cheil Spain.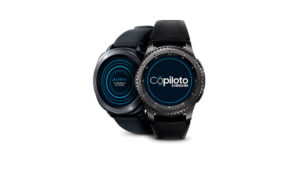 Both have been working on #technologywithpurpose for the last few years. They previously launched ("blind cap") a swimming cap that helps blind Paralympic swimmers to flip turn at the and of the pool which won a gold at Cannes Lions, and ("dytective") a free app that detects dyslexia in 15 minutes through AI which won bronze.
The campaign was directed by Martin Jalfen and Miguel Usandivaras, from production company Blur.
Studies show that 20% of traffic accidents occur due to drowsiness. People believe they can beat the sleep. But once the sleep comes, no one can beat it, and trying to do so, is very dangerous.
Joaquín Espagnol, Executive Creative Director from Cheil Spain said: "Drivers feel they have less sleep than they really have, and the worst of all is they think they can beat it. It is a campaign for the launch of a new product, but at the same time it's an awareness message. We hope we can help to minimise the impact of sleep on the roads."
Source: Little Black Book