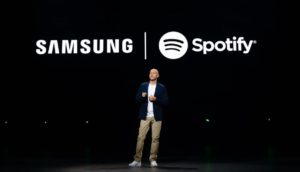 Samsung has formed a long-term partnership with Spotify that will enable Samsung users to take advantage of 'a seamless listening experience between devices'.
As a result of the agreement, people will be able to link their Samsung and Spotify accounts to play music across all devices.
Spotify will also become a prominent part of the set-up process on Samsung devices. This includes the Spotify app being easily discoverable on phones through Samsung Smart Switch and, eventually, Samsung Smart TV users being able to play Spotify through the SmartThings app.
In addition, Spotify is now the only music service fully integrated with Samsung Music. With this, when a user asks Bibxy for music, the AI assistant will turn to Spotify – even if the user has never used Spotify before.
"Samsung makes devices for every aspect of our lives – everything from smartphones and TVs, to tablets, speakers, and watches. And we have designed Spotify to deliver personalised music to consumers around the world – wherever they are, across millions of devices," said Daniel Ek, CEO at Spotify.
"This partnership with Samsung reduces the friction for users to get Spotify up and running on multiple Samsung devices once the accounts have been linked. It allows us to create a seamless music listening experience together for the user that would be hard for either of us to build alone. It's a great fit."
Source: Mobile Marketing Magazine