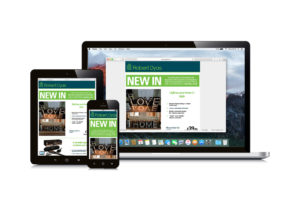 Robert Dyas has struck a partnership with customer experience platform Narvar that will see the homeware retailer further improve its customer experience after the buy button by providing consistent and branded communications.
In a world of Amazon and Ikea how can hardware stores really stay relevant and competitive?
150-year-old heritage retailer Robert Dyas has lived through ever 'era' of customer service. Its most recent project is improving its post-purchase experience. Recognising the importance of a fluid online/offline experience Robert Dyas have announce today that its customers will now receive seamless, engaging delivery and returns communications direct from the retailer – not from boring third-party for the number of shipping carriers they use and 100+ drop ship carriers.
Currently, online customers are directed to third-party websites for delivery updates for drop ship deliveries. The retailer works with multiple carriers and 100+ drop ship suppliers to provide delivery updates and to communicate the whereabouts of customers' orders.
By working with Narvar, Robert Dyas will ensure customers receive seamless experiences and service throughout the purchase journey, regardless of how orders are fulfilled and the channels on which customer interactions occur.
Using Narvar's SaaS platform to manage its post-purchase customer experiences, Robert Dyas can offer customers real-time, branded updates from basket to delivery, providing clear delivery notifications for every order and all fulfilment methods.
This level of assurance is important to customers, who will be directed to branded order tracking pages and proactively informed on the delivery status of their order. While email is still a key communications channel, the functionality is there for the hardware retailer to also embrace the widespread customer demand in retail for updates via SMS and Facebook Messenger.
Simon Spencelayh, eCommerce Director at Robert Dyas said: "We're delighted to be partnering with Narvar to create even more transparency throughout the entire customer journey. Robert Dyas is nearly 150 years old and excellent customer service has always been at its core. This is another way that we are keeping up with the ever-changing agility of the marketplace."
Anthony Gavin, Regional Director, EMEA at Narvar said: "It's vital that brands and retailers recognise the importance of the experience the customer receives beyond the buy button. The moments after a sale are the 'honeymoon moment' – when a customer is at the height of anticipation. In today's competitive retail landscape, it is essential brands serve premium experiences to turn one-time customers into loyal advocates. Taking back ownership of these moments and delivering convenient, thoughtful and engaging experiences is key to building customer loyalty and advocates. We're delighted to be working with Robert Dyas – a true example of a heritage brand which recognises the importance of meeting evolving customer demands."
Source: Net Imperative