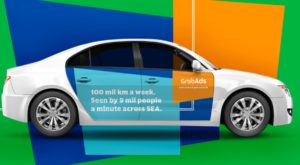 Ride-hailing firm Grab has launched an advertising unit to enable brands to reach consumers in Southeast Asia both inside and outside of vehicles.
Through GrabAds, brands are able to utilise Grab's presence across eight countries and in over 200 cities in Southeast Asia to reach people taking a ride in one of the company's vehicles and those in the general pedestrians.
Brands can show off what they have to offer via solutions under three categories. They are able to turn Grab's fleet of cars, buses, and bikes into moving billboards to generate offline awareness; seek in-car engagement by turning the inside of cars into a canvas for their brand, displaying short-form content on Grab's in-car tablets or even turning vehicles into mobile pop-up stores for riders to test and purchase products; or look to engage riders through interactive widgets such as games, quizzes, and content in Grab's app.
"As our online and offline worlds become one, brands are now more focused than ever in designing and delivering seamless integrated experiences for their customers across multiple channels. GrabAds helps brands tap into our extensive vehicle fleet and increasing digital footprint to reach a wider audience base in Southeast Asia," said Nasheet Islam, head of GrabAds.
"GrabAds is a great way for our driver- and delivery-partners to increase their incomes. Together with our campaign partners, we are committed to helping driver- and delivery-partners achieve additional and consistent monthly income from GrabAds, while helping brands achieve maximum exposure and engagement with their customer."
Grab is partnering with Carblicity, IRIS, Display Science, and MMI Media Group to help brands execute campaigns, and will team up with Mediacorp to create content – like dramas, sitcoms, variety shows, and news programmes – for passengers to view on the in-car tablets. Early GrabAds clients include Pepsi, Dove, Shopee, Tokopedia, Bukalapak, and others.
Source: Mobile Marketing Magazine