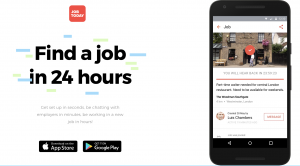 Hiring app JOB TODAY is partnering with curated crowdsourcing video platform Userfarm to kick off a contest aimed at sourcing video content for its new social media advertising campaign.
JOB TODAY – an app specialising in matching candidates with employers in the retail, hospitality and service industries within a 24-hour period – is calling for Userfarm's membership of over 120,000 filmmakers around the world to produce videos, which creatively depict how the app is revolutionising recruitment through unique features such as chat or video cover letter.
Filmmakers around the globe are invited to unleash their imagination and show in a video of up to 45 seconds how a mobile-first technology is redefining the rules of recruitment for the next generation of employers and candidates. The selected crowdsourced videos will be distributed on JOB TODAY's social media channels in September as part of a digital campaign aimed at growing brand awareness and capture the attention of new users to boost app installs.
Todor Madzharov, Head of Marketing at JOB TODAY said: "There are many talented creators in the world and nowadays access to them is easier than ever. We wanted to see what those guys will do with our brand and message. This will not only provide us with great videos and many ideas, but will also tell us how they perceive our product and our story".
Jeffrey Lee, CMO at Userfarm said: "As crowdsourcing video content turns the traditional creative advertising process upside down, it is the perfect solution for brands such JOB TODAY wanting to get a ground-up view of their brand. We are very excited to be helping JOB TODAY in its quest for high-quality, authentic and inspirational video content, which can truly boost consumer engagement."
Source: Net Imperative