Pinterest announced in May that it was testing promoted video at max width with brands including Kohl's, American Express, Tropicana, Chevrolet, Paramount Pictures and John Lewis, and the company revealed Tuesday that the format is now available to all advertisers.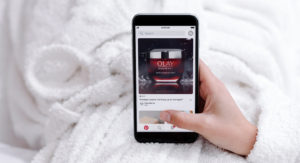 Product marketing manager Nancy Jeng announced in a blog post that promoted video at max width is now available via Pinterest Ads Manager, and brands that have been working with Pinterest sales representatives or Pinterest Marketing Partners can reach out to them, as well.
Promoted video at max width brings wider videos to home feed (spanning across the two-column feed), Pinterest's following tab and search in mobile, in 16:9 and 1:1 aspect ratios.
Pinterest said the number of videos on its platform has grown by more than 180 percent over the past year, adding that an eye-tracking study by Neurons found that brand storytelling and instructional videos resonate best with Pinners.
Jeng shared some examples of brands using the format:
U.K. retailer John Lewis saw a 20 percent increase in awareness and a 33 percent jump in purchase intent from a campaign promoting its new nursery collection.
One of Adidas' videos in its recent 2018 FIFA World Cup Russia campaign saw a 12.6 percent lift in awareness among Pinterest users who viewed the video.
A consumer-packaged-goods brand that tested the format saw a 23 percent climb in brand association for those who viewed its video.
Warner Bros. is using promoted video at max width to promote new film Crazy Rich Asians.
She also shared the following suggestion for brands, based on Pinterest's testing of the ad format:
Videos should include a logo and strong branding, ideally visible in the first few seconds. People will engage even more if products are integrated into the video.
Instructional videos tend to generate longer watch times and people save them more.
Keep your videos short, simple and focused on a key idea or message: Six to 20 seconds is a sweet spot.
Source: Adweek