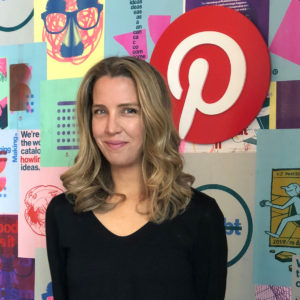 Pinterest announced that retail executive Andréa Mallard has joined the company as Chief Marketing Officer. She joins Pinterest from Gap's Athleta, and oversees the global marketing and creative teams. Mallard is responsible for telling the Pinterest story to Pinners and Partners all over the world, as a growing audience comes to Pinterest to find inspiration for things to buy, recipes to make or projects to try.
"I am very excited that Andréa has joined our team," said Francoise Brougher, Pinterest's Chief Operating Officer. "Her wealth of experience in building great brands will be an asset to our company as we continue to expand globally. She is exactly the right leader to help us illustrate why hundreds of millions of people rely on Pinterest to get inspiration and do what they love."
Mallard brings 20+ years of experience working with international, retail and customer service-focused companies. Prior to her position as CMO at Athleta, she spent four years as CMO of Omada Health, a digital health company and eight years with IDEO, where she led the global brand strategy practice as a Design Director in the US and Europe.
"It was clear from my first conversation that this is a purpose-led company with the heart, mind, and values needed to become an iconic, global brand," said Mallard. "Pinterest inspires people everywhere to create a life they love. I believe it can be one of the truly positive corners of the internet and I'm excited about the great possibilities to come."
Mallard will report to Brougher, who recently joined Pinterest as COO in March. Mallard started on October 29 and will be based at Pinterest's headquarters in San Francisco.
Source: Pinterest